By Funmi Komolafe
Brethren, glory be to God for the grace to witness the beginning of another week.
In the name of Jesus, that prayer request that is upper most in your heart will soon become a testimony.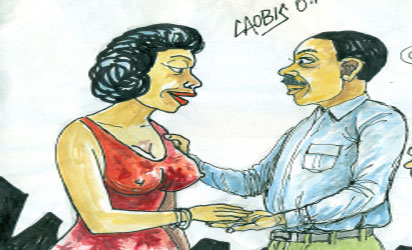 Why am I so sure?  It's simply because I know we have a God that is alive.  Our God has ears and he can hear us anytime we call upon him.
Jeremiah 29 vs. 12 is our authority. " Then shall ye call upon me, and ye shall go and pray unto me, and I will harken unto you".
As human beings we have some things in life that we really need to make us fulfilled.
For some, it is to get married, for others, to have children yet other people want to acquire professional certificates as a way of   getting to the top in their chosen careers.
I may not know exactly which is yours but I know that for you to desire an end to your present situation, the spirit of stagnation has held you down.
Therefore, you are really in need of a turn-around. In the name of the Almighty God, your situation will change for the best.
Some of these issues actually cause us to shed tears of sorrow in our closet.  Many times you fall asleep after shedding tears of sorrow.
Tears of sorrow cannot bring in the solution to your problem only Jesus can.  You need to connect to the burden bearer for whatever is causing you pain now to become your gain.   When you possess it, it becomes your gain.  People will see and celebrate with your.
For someone reading this article because our Lord lives, you will soon move from sorrow to joy in the wonderful name of Jesus.
Our God has given us this assurance as recorded in Isaiah 30 vs. 19 " For the people shall dwell in Zion at Jerusalem: thou shalt weep no more: he will be gracious unto thee: at the voice of thy cry; when he shall hear it, he will answer thee".
I hope you understand that the one who will be gracious unto you and answer you is the Almighty God, the creator of heaven and earth.
We have a greater assurance in the word of God as recorded in Revelation 21 vs. 4 " And God shall wipe away all tears from their eyes; and there shall be no more death, neither sorrow, no crying neither shall there be any more pain: for the former things have passed away".
Brethren, when the former things pass away, what happens?  A new era is ushered in.    This season your new era of joy will manifest in your life in the name of Jesus Christ.
Let's go practical now.  Sunday Vanguard of last week published the story of a 63-year-old woman, Mrs. Margaret Davou who gave birth to a baby girl after 38 years of marriage. No doubt this is a miracle.  You may say after all she went through IVF but let me recall the words of her doctor.
Dr. Kenneth Egwuda her consultant gynecologist told the interviewer  " We admitted her and I felt she was in good state of health to undergo IVF treatment.  We just did what we have been trained to do professionally, and the only attempt she had with us she got pregnant with the help of God because I don't think anything different was done from what she had had in some other places".
Note his words with the help of God.   Brethren, that is my point.   Thank God for doctors who acknowledge the supremacy of the greatest physician, Jesus.
Did you also take note that the doctor said he didn't do anything different from what she had done elsewhere.
Brethren, this season, the Lord will lead you to your helper in the name of Jesus.  God led this woman to her helper and her story changed.  God gave her a miracle that advertised his name.   By the grace of God, you will have a better testimony.
On the same day, that I read the story of this woman who gave birth at 63, God gave me the opportunity to witness a testimony of a lady during the miracle service of Laughter Foundation International Ministry and I decided to share that testimony with you.
I will simply refer to the lady who gave this testimony as Lady B.   Lady B has been married to a man who practices another religion since 2004 without children.
Then someone invited her to this particular church.  This was in 2013.  After coming for sometime and nothing happened.  She decided to stay away.
In 2016, the Spirit of God spoke to her to go back.   She obeyed.   At this time, the General Overseer gave an assignment to all women trusting God for the fruit of the womb.  She said when she was praying; her husband looked into her room and asked if she was quarrelling with anybody.  She said no, she was only carrying out an assignment.  He decided to partake in the assignment.   This was in February 2016.  The following month, March, for the first time in her life, she took in.
Brethren, she told the congregation that she had killed so many chickens and goats having visited   numerous herbalists but none could wipe away her tears.
But our God, who does not take chicken or goats from anyone, did it for her.  Today, she is a mother of a baby girl.
Before, I make other points; I'll refer to another quote in the interview with Dr. Egwuda who admitted that IVF is quite expensive in Nigeria.   His words " The reason the price is high is because of Nigeria's developmental stage.  We are not a manufacturing country; we don't make drugs and most of the consumables used for IVF are imported, we would have wished that IVF is not as expensive but of course the exchange rate keeps going up".
Brethren, our God does not charge for miracles.  He gives freely to those who love him and live by his word.
Have you taken note that in the two instances, the couple stayed together?  The men didn't go looking for alternative wives who may end up giving them children whose paternity could be in doubt.
Did you also appreciate the point made by the doctor that it was God that made it possible?
Why did Madam Margaret not conceive as a result of her previous treatments?  God led her to her helper.
In the case of Mrs. B. who had spent so much killing, goats   and chickens, I'll share with you the comments of the general overseer of Laughter Foundation, Pastor Gbenga Oso.  He said, " People who go to herbalists are the most stupid people".
He said people should not be deceived.  Herbalists do not and cannot give children.
As a believer in Christ, you have no need for such people.  Even if you are not yet a believer, brethren, I implore you to give your life to Christ.
If Mrs. B can give birth to a baby after about 14 years of marriage and Madam Margaret at 63 years, why are you giving up?
Don't give up.  Rather, be more serious with your worship and service to God and you and the children that God will give you will be amazement to the world.
God does wonders in all things.  He is not limited to childbearing issues alone.
Renew your faith in him and he will fill your life with pleasant surprises.
Get ready for your tears of joy in the name mighty name of Jesus.
Do have a blessed week.