BY DAPO AKINREFON
Mixed  reactions Thursday greeted the decision of the Independent National Electoral Commission, INEC to send the Osun State Resident Electoral Commissioner, REC, Mr. Rufus Akeju on leave ahead of the election.
Mr. Akeju has been at the centre of contention between the Peoples Democratic Party, PDP and the All Progressives Congress, APC.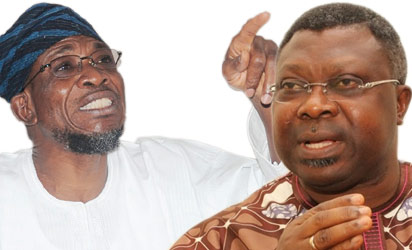 Mr. Akeju who the PDP had in the past accused of being partisan towards APC was asked by INEC to proceed on leave in the course of the election. His counterpart in Kogi State, Segun Agbaje was asked to sit in for him while on leave.
When contacted by Vanguard to comment on the development, Omisore who had in the past canvassed for the redeployment of Akeju immediately welcomed it saying it was a victory for the people of Osun. He spoke through the director, Media and Strategy of his campaign, Prince Diran Odeyemi.
"This is victory for the people of Osun State," he said yesterday.
On its part, the All Progressives Congress, APC, said it was not disturbed by the issue even as it expressed concerns over the timing of the redeployment.
The APC state director of Publicity, Research and Strategy, Mr Kunle Oyatomi said "the INEC as a body had been compelled to remove Akeju because the PDP with the patent support of the presidency is desperate to rig the election. They know it will be impossible when Akeju was there because the man was not buy-able. So they had to remove him."
The party, however, maintained that "Jega now has a responsibility to tell Nigerians what convinced him now few weeks before the election that Akeju was compromised. What we can make out  of that is that he has not been removed as a REC, Akeju has only been asked to step aside to make what is impossible with him, possible with his replacement."
"The whole idea of credibility is bunkum. Rather, it tells a lot about INEC's unreliability because Jega could not stand his grounds under pressure from presidency. If Jega wants us to take him seriously, he should now use the card reader for the election as we have demanded because it is available and usable. Their refusal to use it is suspect. However, the APC has an answer for every of their antics. Aregbesola's phenomenon in Osun is unprecedented and the people of the State have demonstrated their unalloyed support in the last three and half years. We are sure of victory come August 9″, the party said.