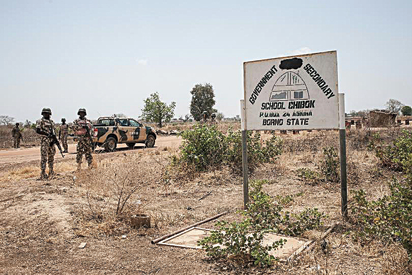 Suspected Boko Haram terrorist burnt down houses in Gatamwarwa ward, Chibok local government area of Borno state.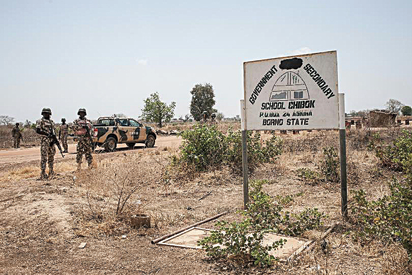 According to the TheCable the insurgents came in around 5pm through Askira, shooting sporadically leaving many villagers running for safety.
"They came in tens of motorcycles," a resident told
"They started shooting and setting houses ablaze."
Gatamwarwa is about 19 kilometres away from Chibok town.
Also Islamist militants raided a military base in northeast Nigeria, killing a policeman and a local resident, witnesses said Thursday.
Fighters in 13 vehicles late Wednesday attacked the base outside Miringa village, 15 kilometres (nine miles) from the home of army chief Yusuf Tukur Buratai.
The jihadists, believed to be from the IS-affiliated Islamic State West Africa Province (ISWAP), burnt the base along with an armoured vehicle and a primary school.
"They came around 6:30 pm (1730 GMT) in 13 vehicles and attacked the military location just outside the village," Miringa resident Umar Sanda told AFP.
"The two sides fought for more than one hour while all the people in the village fled into the bush."
Fleeing residents later returned to their homes and "found the base, the lodging, an armoured personnel carrier and a section of a primary school burnt," said another resident, Abba Usman.
Usman said the bodies of a policeman and a resident who lived near the base were recovered.
"The soldiers were able to fight off the attack and prevented the insurgents from entering the village," said civilian militia leader Mustapha Karimbe, from the nearby town of Biu.
The area around Miringa has been repeatedly targeted by insurgents since Buratai became Nigeria's chief of army staff in 2015.
In January this year, six soldiers were killed and 14 were injured when ISWAP sacked a base in nearby Kamuya village, stealing weapons and burning military vehicles.
Kamuya, the home village of Buratai's mother, was hit twice in December 2015, not long after he was named the army chief.
Boko Haram's decade-long conflict has killed more than 27,000 people and displaced another 1.8 million from their homes in northeast Nigeria alone.
Attacks have also been recorded in the wider Lake Chad area of neighbouring Cameroon, Chad and Niger, with particular concern in recent months about attacks from ISWAP.
The IS-backed faction has repeatedly targeted military installations and troops since mid-2018.
It may also have replaced its leader with a hardliner at a time of mounting concern about the spread of jihadism in the wider West African region.