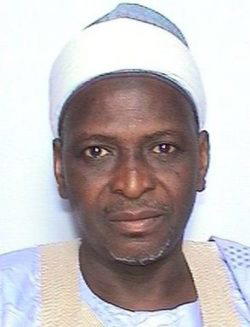 Sen. Bukar
Daura (Katsina State) – Senate President Bukola Saraki has described the death of Sen. Mustapha Bukar representing Katsina North as heart touching.
Saraki made the remark in Daura, Katsina State on Thursday when he paid a condolence visit to the Emir of Daura, Alhaji Umar Farouk.
He said the late Sen. Bukar was one of the pillars which helped in moving the Senate forward, especially in the process of law making and performance of oversight functions.
Saraki said the demise of Bukar had created a wide vacuum in the Senate, stressing that other senators would continue to pray for the repose of his soul.
He said Bukar was a peace-loving senator who had the interest of Nigeria at heart, adding ''I urge the family to bear the irreparable loss; it was a loss to the nation in general.
''He was a senator who made positive impact in the Senate of the Federal Republic.''
Responding, the Emir of Daura thanked the Senate President for the condolence visit.
He said Bukar died at a time when his services were much needed especially under the present democratic dispensation.
He said the Senate President was his son and his presence in Daura was a home coming visit.
The monarch called for a peaceful and cordial executive and legislative working relationship for the progress of the nation.
In a related development, the Senate President visited the families of late Sen. Bukar, where he offered prayers for the repose of deceased's soul.
Alhaji Abdullahi Bukar, the elder brother of the deceased, thanked the Senate President for the visit.
The News Agency of Nigeria (NAN) reports that the Senate President was in company of Senators Barau Jibril, Dino Melaye and Rauf Ibrahim. (NAN)