By Daud Olatunji
ABEOKUTA – The former governor of Abia State, Dr Orji Uzor Kalu, has blasted the former President Olusegun Obasanjo and other critics of the President Muhammadu Buhari-led administration, saying, the President deserves a second term.
Kalu spoke during a courtesy visit to the Ake palace of the Alake and Paramount Ruler of Egbaland, Oba Adedotun Gbadebo, in Abeokuta, the Ogun State capital.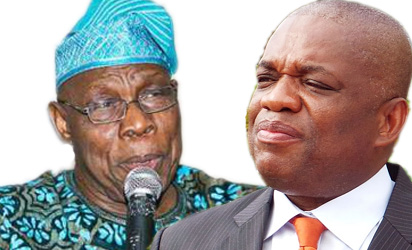 Kalu's comments came on the heels of former President Olusegun Obasanjo's latest scathing comments that the Buhari-led government had been ineffective and incompetent and does not deserve re-election in 2019.
Kalu, who is the coordinator of National Movement for Re-election of Muhammadu Buhari, declared during his visit to the Alake that the president has performed creditably to deserve another term of four years in office.
He said despite cynical and vitriolic attacks against the president, he deserves a second term in office to be able to complete his good works for Nigeria.
The former governor, who observed that Nigeria had continued to grapple with the challenge of leaders who never obeyed the law, said Buhari should not be bothered about criticisms and adversarial letters.
According to him, Buhari has not finished the job he was elected to do by Nigerians.
He said, "In any democracy, there must be people for and against. We are for Buhari, some people are against and we wish them well. And we want to thank you for the key role of peace that you and other traditional rulers have been playing. Nigeria unity is non-negotiable.
"We are for oneness of this country, we are for leaders who are sincere to lead us well, we are for leaders who are equally committed to the rules and tenets of democracy.
"The greatest challenge of our country is leaders not obeying the law. When they are leaders, they don't want to obey the law; when they go out of leadership, they criticise everybody who wants to obey the law. This is the problem of the country.
"We have had leaders who disobeyed every law of the land. We've also had leaders who were reckless when they were leaders and when they go out, they call people all kinds of name. We have also seen leaders that have never seen anything good in other people's leadership, they only know about themselves.
"So, we want to thank you for the support…I know you are close friend of President Muhammadu Buhari and I want you to maintain that friendship; don't allow anybody to distract you whether people from here or from my area, stay in course.
"President Buhari has not finished the job he came to do. If God gives him good health and long life, he has not finished. He has to go for another four years to be able to finish.
"Despite people who are criticising and these people also took no criticism when they were in office. Despite people who are writing letters; these people we also wrote letters to them, they didn't reply to our own letters."
Kalu, who applauded the Alake for his sterling military career, commended the monarch's numerous community services and contributions to nation-building.
In his remarks, Oba Gbadebo lauded the former Abia governor for his message of love and strong belief in Buhari's capacity to deliver good governance for the country.
The Alake further described Kalu as a great and detribalised Nigerian, whose tenure as governor was marked with monumental development of the state.
"As a key stakeholder of the Nigerian project, your patriotic contributions to nation-building are commendable," he told Kalu.
The monarch, who noted that the nation's Presidency remains the birthright of every Nigerian, promised to support Kalu whenever the nation beckons on him to contest as president.
According to him, there is great hope for Nigeria when somebody from the South East could be mobilising support for a president who hails from the North.
The Alake pointed out that giving Buhari a second term in office would enable him to consolidate on the achievements already recorded by the present administration.
His words: "So, I am part of your team in campaigning that he be given a chance for another four years because those who made the tenure to be four by two know that while you are formulating your policies while you are thinking of what to do, you need time to now expect everything you have put in place in the first four years to germinate and to bring benefits to the people.
"And we know what happens in Nigeria; there is always policy somersault. If a person goes after four years, virtually everything he has done will be turned over by whoever comes after; he won't want the person that has come to get the credit for what he is going to sit upon. So, he would rather have it killed than to go ahead and implement.
"So, as you are going around the country, we pray that God will be with you. That this effort you are putting in for the greatness of Nigeria, some other people will do the same thing for you because the headship and Presidency of this country is the birthright of every Nigerian and I pray that in your own time too, people will go round and solicit support for you. You have proved to be a great Nigerian totally devoid of tribal sentiment."