By Kingsley Omonobi & Jimitota Onoyume
PORT HARCOURT— GOVERNOR Nyesom Wike of Rivers State, yesterday, claimed that the Poice high command dismissed the six policemen attached to him because they resisted a plot by security agencies to assassinate him.
But the Police headquarters, dismissed Wike's claims insisting that the dismissals were as a result of professional misconduct.
The governor made the allegation in Port Harcourt when he received Aluu Council of Chiefs, alleging that there were plans to use security agencies to assassinate him.
It will be recalled that the Police had denied knowledge of plans by any security agency to assassinate the governor.
Spokesman of the state Police command, DSP Omoni Nnamdi, had made the denial to Vanguard when the governor first raised the alarm before the re-run elections last year.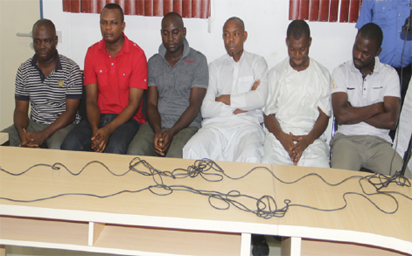 But Governor Wike claimed the dismissed officers ensured the alleged plot did not work.
According to him: "The policemen were dismissed because they did not allow the security agencies to assassinate me as was planned. The security agencies planned to assassinate me, but those attached to me resisted the plot and refused to allow them kill me. That is why they are angry and desperate"
Governor Wike also alleged that there were already plans to rig the 2019 elections with security operatives, saying: "The security agencies, by their actions in the December 10, 2016 re-run elections, alerted us on how they plan to rig the 2019 elections. We are now prepared for them."
Reacting to the allegation by the governor, Force Public Relations Officer, CP Don Awunah, asked: "Did the video recording that showed the officers shooting into the air dangerously and threatening public safety, show where Wike's life was threatened, or where anybody tried to assassinate him? Was there any time that it was reported that some persons tried to assassinate the governor?
"Did the police officers arrest anybody trying to assassinate Governor Wike and nothing was done about it by the Nigeria Police? If there is evidence of suspects they arrested for trying to assassinate the governor and the suspects handed over to the police, they should produce it."
The FPPRO recalled that the standard orderly room procedure was applied by the police authorities in trying the officers and no allegation of such ever came up.