IT is gratifying to note that the Nigerian Railway Corporation, NRC, has finally taken action – or so it seems – over the dangerous behaviour of hundreds of commuters who sit on the roofs of trains, especially in crowded metropolitan Lagos.
A number of fatalities, including the mangled remains of a man, were found on the tracks of the rail line at Agege, Lagos, have resulted from the poor attention to safety.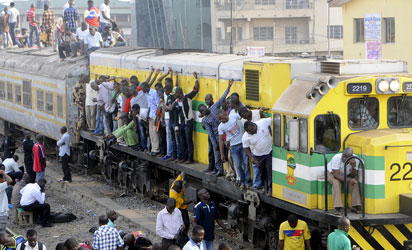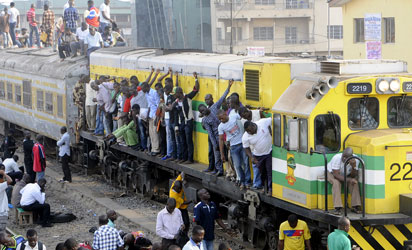 A young man recently lost his right hand at the Oshodi, Lagos station while jumping off a moving train. After years of zero train services, NRC returned to business in the last couple of years without adequate security measures that would minimise train mishaps.
Train accidents happen even where better safety arrangements are made. In some countries like Brazil, youth exuberance leads hundreds of youth, some as young as 13 to surf on fast moving trains. About 150 of them died in 1989 alone, with hundreds injured.
India has the same challenges, here the motive is mostly evasion of fares, sometimes those who pay do not have space in the coaches. More than 100 train surfers died in Russia in 2011 and about 40 in Germany in 2008. The causes of death were electrocution, falling off the train, hitting cables or rail infrastructure.
A  2006 documentary, Surfing Soweto, details how disillusioned South African youth took to train surfing to expend their adrenalin. Many have died. One of the  reasons for young people risking their lives around trains is that they want to dodge fares. Others are out for adventure, or do not find enough rooms in the train.
Whatever it is, NRC should take security more serious. Its current operations may not provide enough room for the dangerous antics of train surfers, but it needs to anticipate the possibilities, especially with the speed information technology spreads habits: good and bad. Information on dangers around rail transportation under-states them.
Enough arrangements have to be made to secure the rails, the various level crossings that trains  share with motorists. When trains approach the junctions, even at night, there should be trained wardens to halt traffic from dangers of the rails.
Stopping commuters from train surfing is important in establishing a rail system that emphasises safety, comfort and security of commuters.
The sector is screaming for attention from government's touted Transformation Agenda. Without an efficient and safe rail system to move goods and people, the high costs of other means of transportation would swallow the National Industrial Revolution Plan, NIRP,  the President launched weeks ago.
It is time the authorities paid more attention to the rails to harness the possibilities that mode of transportation holds for our national development.