By Debbie Olujobi
Can a man's act truly be separated from his person? Let me simplify and maybe even personalize the question. Are you what you do? Can your entire life be defined by one single act? This question has been weighing heavily on my mind all month long and it is  causing me to question a lot of beliefs and even fears that form my opinions and values.
I am of the Christian persuasion and I am finding that the practice of  some Bible truths are not as easy as one would assume. There are some gut reactions that most of us can't control; repulsion and fear are those I have had a bit of trouble controlling.
There were many intentions that never happened last year and I had very late last year started making moves to fulfill them this year. I have always had a soft spot for troubled souls; I believe everyone except for grace could be driven into situations and acts that can change the course of their lives for ever. Second, third and as many chances as possible should be the right of anyone who truly is penitent and this view informed my conviction to join a ministry that catered to prisoners!
To the average person; prison is far removed from reality and is a place of dread, broken dreams and dangerous people. That would not be crazy thinking as there are some very dangerous people serving time for offenses that would chill the blood but that is hardly the full story. Prison is a place of confinement to punish crime and separate individuals deemed dangerous to the public.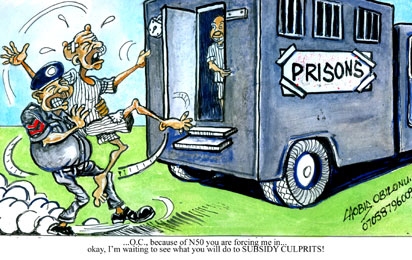 There are no luxuries, life is regimented and all freedom tightly controlled to provide an environment where penitence and hopefully rehabilitation and correction is achieved. In reality rehabilitation and correction are only possible where individuals are convinced of their guilt and sorry to begin with.
Prison can be a place to get more hardened as experts in crime are within very close quarters to teach even more evil. I have been to a few and I can tell you it is not half as frightening as one might imagine. Its more like an old and rather basic grammar school and within its confines exists a human community with its own laws and regulations. I will admit that my first visit to minister about 10 years ago frightened me to no end but I left with a different appreciation for nature of the institution.
The Bible says clearly that there is therefore now no condemnation to them which are in Christ Jesus, who walk not after the flesh, but after the Spirit. I truly believe this but I have heard and seen some things lately that cause me to wonder if there is a cut off point. Before religious people start shooting me with darts of outrage, please hold your peace and let me explain.
Zeal to bring relief to those who are without hope and encouragement can be dampened when you come face to face with people who have committed some crimes that border on sacrilege and abomination. There is no great differential between criminals in prison except that some are condemned and some aren't.
I come across those who join us for fellowship and are reaching out for love and hope that only the word of God brings, there are also those who are of a different faith doing their own thing nicely but then again there are those who look at you through eyes of malevolent evil and you wonder whether redemption should indeed have a cut of
f point. Even in prison they continue to perpetrate crime and terrorize other inmates!!
One thing that never fails to amaze me is the diversity of the prison population both male and female. Its best to not ask questions about the crimes that brought most of the prisoners there as you fall into the trap of judgement. The truth is that most inmates don't look or sound like they belong in prison and its only natural to begin to wonder!
There are young girls, innocent and beautiful, young men who look like they should be working in a bank, grandmothers; gentle and matronly. This past week I found myself looking into eyes that were very familiar and a tad friendly and I wondered where I had met this seemingly innocent soul.
It took a while to connect the dots and I finally remembered where and who it was I had seen. One of the most heinous and gruesome crimes perpetrated in recent times was committed by this person yet here he was praying and crying for a second chance. My flesh initially was repulsed till I remembered that God's love is none judgmental; he was no worse than Paul who had supervised the killing of the first christians.
I am determined to develop my mind to a level where I can separate a man or woman from their acts; judgement is pedestrian and a preserve of the divine, the rest of us pray that grace is made available to us at our worst. A man is not the same as his acts; people change.
It was the same Solomon, that was crowned King and deemed worthy to build God's house that degenerated to a has been, broken and dejected and I end with one of his wisest quotes… " I returned, and saw under the sun, that the race is not to the swift, nor the battle to the strong, neither yet bread to the wise, nor yet riches to men of understanding, nor yet favour to men of skill; but time and chance happeneth to them all.