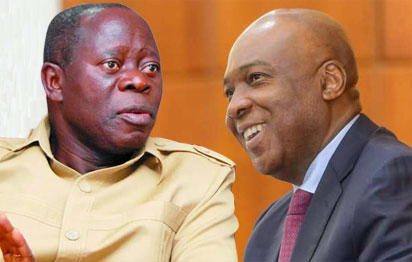 Oshiomhole and Saraki
.Says, Senate President's ambition almost ruined APC
.'Reclaiming Kwara from him, a task that must be done
By Omeiza Ajayi
ABUJA – In the aftermath of the presidential declaration of Senate President Bukola Saraki, National Chairman of the All Progressives Congress APC, Comrade Adams Oshiomhole says his claim that Mr Saraki wanted to destroy the APC before leaving has now been vindicated.

This was as he vowed to reclaim Kwara state from the vice grip of Sen. Saraki and end his dominance of the political structure of the north-central state.
Oshiomhole stated this through a statement by his Chief Press Secretary, Simon Ebegbulem, shortly after a meeting of leaders of the party in Kwara state led by the Minister of Information and Culture, Alhaji Lai Muhammed.
Addressing the Kwara delegation, Oshiomhole said; "when I was saying that all these defections are not about APC but the personal ambitions of these people, they took hired writers to say I was being too hard. But Saraki's declaration has vindicated me. Thank God he has moved on because his inordinate ambition was almost destroying our party but he has failed. These are not principled politicians but bread and butter politicians who can go extra miles to pursue their selfish ambitions and never think about the well-being of Nigerians.
"As things stand today, APC remains the darling of the Nigeria people. Because PDP was the vomit of yesterday, our people will not chew it back today, not under three and half years. People have not forgotten and people will never forget. In fact, what a senior palace chief in Nigeria said, he said this generation of Nigerians will not forgive the PDP in a hurry. Even to say you want to forgive you must do reparation.
"The damage they did to our economy, the damage they did to our electoral process, even the culture of rigging was institutionalized by them. They introduced do or die politics. They are the ones buying weapons for young people to go into thuggery while their own children are schooling abroad. They introduced all these vices".
Oshiomhole who declared that reclaiming Kwara state from the grip of Saraki is a task that must be done, directed the APC leaders to ensure they conclude the election of executives from the wards to the state this weekend.
He narrated that, "the last time I spoke with the Minister he told me we have accomplished 80 or 85 per cent, that for me is not good enough because we don't have more time. So this week we must achieve hundred per cent by whatever means. If you can't do it, we have to help you get it done.
"The two Deputy National chairmen working with the National Organizing Secretary and the North central Vice Chairman constitute a committee to complete whatever is left. It will not exceed Sunday this week. I also want to appeal very strongly, that at this hour, we don't want a situation where because of what is happening in Kwara, people who ordinarily will be quite happy to be a strong pillar of support, everybody want to be a governor, everybody want to be a Senator or in the House of Reps.
"Our party is a party of change and we want to discourage people from putting their personal interests over and above the interests of the people of Kwara state. I am able to say under the leadership of the Minister, he has repeatedly said it that his interest is not for him to contest for the governorship of Kwara state or any elective office. I don't think it can be more selfless than that.
I won't allow emergence of new godfathers in Kwara
"I am very impressed with the enthusiasm of the people of Kwara state. They are experiencing a new dawn, a new sense of freedom and a sense of ownership of the APC where we are trying to do bottom up rather than top down. Where we have politics of inclusion, no god father, everybody matters. Now I superintend over the liquidation of god fathers in Edo state, now I will not be here and allow and support the emergence of a new god father.
"When we vanquished the god fathers we created a level playing field for equal opportunity to participate and that is what I think we have achieved so far and we need to take full advantage of that to do what need to be done for us to get on with the job of organizing, mobilizing. I believe all of us, the APC leadership, we are anxious to come to Kwara state, to interface with the great people of Kwara state, beyond llorin to other major cities in Kwara.
"Let them know and carry the message of change and use the broom to sweep away the past, including the thorn umbrella. The task of sweeping away the past and rebuilding a new Kwara is a task that must be done. That should give you the energy, the incentive and the appropriate spirit to work together so that victory will be ours, not for our own good but for the good of the great people of Kwara state who have been oppressed for such a long long time. Like they say there can be many days for the thief one day for the owner" the statement said.