The Imo State Governor Rochas Okorocha has commended the National Chairman of All Progressives Congress, APC, Chief John Odigie-Oyegun for cancelling the conduct of the Local Government Congresses of the Party in the State, which should have, under normal scenario, taken place today.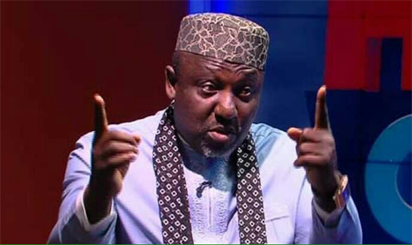 Odigie-Oyegun, on Friday confirmed the postponement of the today's Imo local government congress just as the state secretariat of the APC was set ablaze by unknown persons.
Speaking on the postponement Odigie-Oyegun said: 'Yes, the party has shifted the Local Government Congress in Imo pending the report of the Appeal Committee'
According to Sam Onwuemeodo, Chief Press Secretary to the Governor, in a statement he signed on Saturday said that 'the best option, considering the fact that the APC Ward Congresses have not been held in the State because the queer-characters in the so-called coalition made away with the Sensitive materials meant for the Venture.'
Also, he said that the moment they got the hint of the possible postponement of the Local Government Congresses, they deployed their thugs to go and set the party's state secretariat ablaze, under the heavy rain that had fallen in Owerri on Friday, May 11, 2018 evening.
He also said that 'it is also necessary to point out that all those in the sick coalition in the state are electoral liabilities. They are all serial election losers. Chief Ifeanyi Araraume had run for governorship in 2007, 2011, and 2015 and failed in all. Infact, he never won even in his Isiala Mbano LGA, in all the elections.'
'Chief Okay Ikoro has never crossed the level of Party Primaries. TOE Ekechi had contested election four times and in all, he lost his deposits. Hope Uzodinma defeated Osita Izunaso for Orlu Senatorial Seat. Eze Madumere has not won election even as a councillor until Rochas took him. Ben Uwajumogu was just made Senator by Governor Rochas Okorocha.'
'Their target is to destroy APC but they must be resisted by owners of the Party in the State. They are food-is-ready Politicians. Otherwise, why won't they look for a virgin Party and file behind one of them as Candidate and let us see how far they can go.
'If they were popular, why did they avoid coming to the field for the Ward Congresses, but decided to run away with the Sensitive materials for the exercise.
'The fact remains that they must not be allowed to destroy APC like they did almost all the other Parties in the State ' the statement said.
Subscribe for latest Videos