The governor of Rivers State Mr Ezenwo Nyesom Wike has  elevated the Amayanabo of Ogloma to First class status and equally elevated the Amayanabo of Kirike Town to Second Class and recognised  the Amayanabo of Okochiri, King Ateke Tom as a Second Class Traditional  Stool.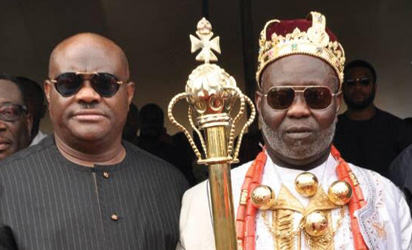 This was done during  a solidarity visit to the Rivers State Governor by the Wakrike Ethnic Nationality in Okrika Local Government Area of Rivers State on Wednesday.
And in appreciation of his performance, they  endorsed Governor Nyesom Wike for a second term.
Speaking on behalf of the Wakrike Ethnic Nationality, Chairman of the Okrika Divisional Council of Chiefs, Chief Sunday Kalaowolo, said Governor Wike had always treated Okrika people fairly through projects execution and appointments.
He said: "As the political drumbeat starts in 2018, we the Wakrike people under God, ask you to run for a second term in office. We will lay down our lives , not only to vote for you, but to defend our votes.  All Okrikans are solidly  behind you for 2019. We are sending notice to your detractors that there will be no vacancy in Government House Port Harcourt by 2019".
The Amayanabo of Ogu , King Nicholas Nemenebo said the Wakrike Ethnic Nationality was 100 percent behind the Rivers State Governor.
Also, former Minister of Transport, Dr Abiye Sekibo, said the Wakrike Ethnic Nationality were firmly behind the Rivers State Governor for 2019.
Similarly, Senator George Sekibo declared that the Wakrike Ethnic Nationality remained with Governor Wike and would work diligently  for the actualization of his second term.
Responding, Governor Wike assured the people of Wakrike Ethnic Nationality that he would continue to deliver quality projects and programmes in the area.
He said the Wakrike Ethnic Nationality stood by him in 2015 during the governorship , hence his commitment to the development of the area.
He said if the forthcoming  elections would be on the basis of votes, it would be difficult for  the APC to win anywhere in the country.
The governor said due to the failure of the APC, the party was planning to rig the election, saying "They are planning to rig and they say nothing will happen if they rig. In Rivers State, something will happen. Be prepared to defend your votes so that nobody will take your mandate and give to another person."
He charged Nigerians never to support politicians who failed to keep their promises and resorted to excuses.
According to the governor, giving such politicians a second opportunity would translate  to more suffering for the people.
Wike said he would not abandon any project, noting he would never forget his promises to the Okrika people.
The governor  appealed to Okrika people to resolve the issue of the Amayanabo of Okrika.