Introduced last year, Sahara Group's 'Grooming Film Extrapreneurs Competition' provided a platform for several budding film makers to show case their works. Joseph Duke, the overall winner of the maiden edition recently completed a six-month internship programme with ace film maker, Kunle Afolayan.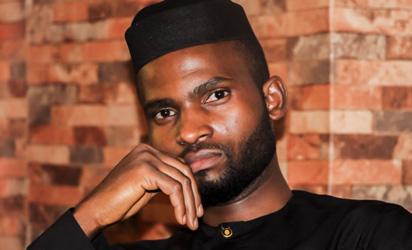 Now bristling with ideas, empowered by the experience and set for a short course at the London Film Academy on the bill of Sahara, Duke declares in this interview with entertainment correspondents that his dream to be a globally renowned film maker is now within reach.
Excerpts
What was your experience as Kunle Afolayan's Mentee?
Awesome is one word I think will not even suffice in describing all I learnt. Right from the moment Sahara Group gave me this break through the competition I won, my film making career took a vital turn for the better. My experience during the six months was very inspiring and fun; I met a lot of people in the movie industry; practitioners, celebrities and old friends. I shot four feature films with Director Kunle Afolayan, worked on documentaries, music videos, corporate branding, promotions, events and more. The process was often fun but tasking because there was a lot to do and learn within the short time I had with the team.
What were the key highlights of your internship with Kunle Afolayan?
It has been a busy year for Director Kunle and the Golden Effect Pictures team generally, and as an intern understudying him, I had the privileged of working directly with him. This exposed me to the practical technicalities and business process of making a movie from scripting to cinemas. I have also observed from him how to run a company tin the entertainment industry, how to relate with fans and the advantage of building one's personal brand, how to appreciate our culture and preserve it for generations to come. This particular one is funny but I have also learnt from him how not to die on the job… we work a lot and party a little. So generally, like I said earlier, it was awe-inspiring and fun.
Which of the project with Kunle's production team challenged you the most?
That would be 'Roti' the movie featuring Kate Henshaw and Kunle Afolayan, because it was my first project with him and it started almost immediately I joined the team. I had to push myself to meet up with the pace and once I was able to do that, I was mentally and physically prepared for subsequent projects.
What would you say are the challenges young film makers in Nigeria have to contend with?
I will mention three major huddles I believe can limit any young filmmaker but there are definitely more than three challenges
Standard: As a young filmmaker, you have to work hard to meet the present standard and then make yourself heard by going the extra miles.
Finance: It takes God to touch anybody's heart to release funds for a new kid in the block who only has his movie and bright ideas as collateral
Distractions: This one I learnt from Kunle Afolayan, you need to stay focused, if not, you can easily be carried away by several distractions.
Do you have a different view of the Nigeria film industry?
I would say yes, because things are a lot different from what I perceived. Filmmakers make more money now, cinemas are expanding more and more and I have also come to realize that there is a huge potential in this industry; it has different opportunities which we have not harnessed. The minor problem I noticed also is that most practitioners aspire to be Directors, Producers or an Actor. I don't understand why. When you can be a cast director or gaffer or sound man or even a runner your entire career and still be, successful and distinguished.
How would you describe your approach to film making?
Watching movies influenced me a lot even till this day. It helped me understand the power of visual storytelling. My approach to filmmaking would be to use my films as a tool to motivate people to live a meaningful, productive and happy life, promote patriotism and the kingdom of God.
I will not pressure myself to make movies because I want to become rich or famous; I know that will come naturally, rather I will focus on the Value of the work itself; because I believe our artistic creations are like children and they ought to outlive us.
Thus, whichever film that has Joseph Duke on it must be relevant for this generation and generations to come and it must add value to the lives of my viewers.
Nollywood is often criticized for stereotype movies?
I don't believe this to be true. That perception belongs in the past. There may be a few DVD film producers that still produce such, but trust me, the Nigerian audience hunger for quality and dynamic contents and as a filmmaker you don't want to shoot a film that nobody wants to see.
Who are the filmmakers you look up to?
I have a lot of respect for Steven Spielberg his directorial style and consistency is very admirable; most directors' start to diminish in the quality of their work as they stay longer in business but Steven Spielberg always exceeds all his past works and his attention to details is simply mind blowing.
Another person I admire so much is Tyler Perry; simply because he is not afraid to share his beliefs and he is one producer I know that understands his market and what to sell, some people may not like his production because of his bias on religion but its working for him, and as an independent filmmaker in Hollywood with his level of success, especially the Tyler studio. I think he knows something.
Back home here, there is this woman I pray for God to continue to help her because I love her tenacity, she reminds me of Opera Winfrey, she alone is enough to tell women that there is a place for women in this industry at the top; if they can work diligently. I have never met her but I respect her so much, her name is Mo Abudu.
Finally, my own Personal Director, my mentor, The CEO, Kunle Afolayan, he has not just bestowed in me what he knows but he has also helped me build social capital. What I respect so much about Kunle Afolayan is that, he is committed to preserving our culture, tradition and values through his works, for generations to come. You will always feel that African touch in every of his work, this I admire so much.
What's your plan for the future?
Well I plan to shoot my first feature film in a few months from now; of course with the guidance and support from Kunle Afolayan and Sahara Group. I am hopeful and confident that it will be a successful project. When I look at how far I have come in just six months I actually marvel and pray for Sahara Group in my heart.
They are living true to their commitment of giving wings to aspirations. All I had was that unwavering aspiration to be a successful film maker.
Sahara provided the wings, and guess what, after my period of apprenticeship with Kunle Afolayan, I am actually soaring towards my target.