Percy Tau snuck onto the field unnoticed and not picked up by a Nigeria defence pushing up for a corner for Bafana Bafana's second goal on the counter-attack in their 2-0 win in Uyo on Saturday.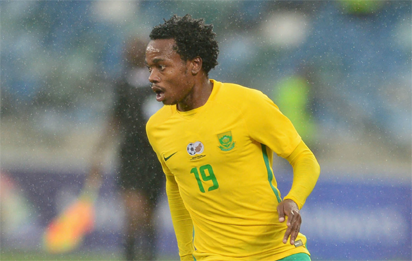 As Tau replaced Rantie in the 79th minute as a like-for-like forward expected to run at the Nigerians and keep them pinned back' he stood alone' unnoticed and unmarked on the halfway line.
Bafana won the corner' Keagan Dolly released Tau' who beat Daniel Akpeyi outside the goalkeeper's area and then beat a defender to the finish.
Bafana had their killer goal for a first competitive victory against the Super Eagles in the 2019 Africa Cup of Nations qualifier at Godswill Akpabio International Stadium.
Asked how Nigeria had failed to pick him up' Tau chuckled: "I don't know."
He said he was playing to instruction going to the halfway line.
"From our tactics in defending corners' that's where I was supposed to be. And catch them in a quick counter. And that's what happened."
Tau did not feel any pressure replacing Nigeria's tormentor-in-chief Rantie' who had scored the opener in the 56th minute.
"The coach told me that I should just work as hard as Tokelo did' and keep the high line' rather than dropping off and looking to play'" the Mamelodi Sundowns winger said.
"Looking from the bench it's just to see what you can do. Today I saw that when I had a chance to come in I just had to keep more of the ball – don't be in a rush.
"We prepared very well. I think you guys (the media) have seen our training sessions. And with the new coach trying to get his ideas to the team.
"We could have scored more goals. Overall we did so well.
"We're South Africans. It's about time we get the same respect.
"Today we came here with the focus on ourselves. It was more on what we can do. And I think we did that so well.
"We didn't fear them. Maybe people at home were saying' 'We've always lost to them.' But' I mean' we were just confident."