By Gbenga Olarinoye
Senator Olusola Adeyeye, a professor, represents Osun Central in the Senate on the platform of the All Progressives Congress, APC. He speaks on some national issues. Excerpts:
A former governor of the Central Bank of Nigeria, CBN, Charles Soludo recently accused President Goodluck Jonathan administration of mismanagement of N3trillion. What is your reaction?
My reaction to it should be the reaction of every Nigerian patriot, we should all be embarrassed, we should all be scandalised, we should all feel great pain in the fact that our nation has been administered in a way as if government is nothing. But nobody is really sure how much accrued to the treasury of Nigeria, the figures you get at the Ministry of Finance are different from what you get from the Accountant General of the Federation, they are different from what you get from the Secretary to the Government of the Federation, different from the Ministry of Economic Planning, different from the Central Bank of Nigeria and NNPC.
So, it seems as if the whole nation rolls in an endless circle of abracadabra; the more you look, the less you see and nobody knows what is actually  going on. But one thing is certain, every Nigerian knows that the nation is not being run properly; we pray to God that we may have serious minded people at the helm of the nation's affairs this year.
Febuary 14 is around the corner. What are those qualities that you think are the selling point for Buhari?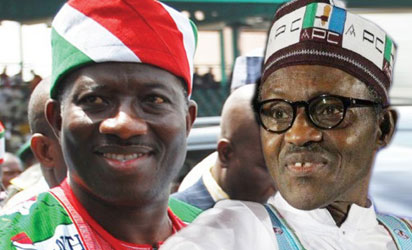 Every Nigerian knows that this is a disciplined man, every Nigerian knows that this is a man that is not corrupt, this is the only Head of State in the history of Nigeria who has refused to receive even his own so called legitimate income because of the conviction that that income has been set so corruptily and so undesirably that it is nothing but mere looting of the national treasury.
This is the only Head of State who, has said 'I dont have an account anywhere outside Nigeria' and this was the only candidate who while seeking the primary endorsement of his party members, told convention participants that he will not offer any money; be it in naira or dollar, but what he will promise was good government. For too long, we have tried to give this man bad names, so we could hang him but it is obvious that the God of history has been marching on his side and, right now, Nigeria has come to a stage where Nigerians are saying 'we dont care if you are Fulani or Hausa or what have you', they want a competent, serious mind to take charge of Nigeria and I am convinced that that man is Buhari because of his discipline and patriotism and his can do spirit that things ought to be done differently from how it is being done.
What about the certificate saga hanging on his neck?
I dont see any scandal. Listen, I am a Ph.D holder. I went to Ilesa Grammar School, of all the boys who passed out of Obokun High School in 1963, I can give glory to God that when my School Certificate result came out, I had the best result but guess what? I dont know where my School Certificate result is and I don't care because my life experiences and my subsequent education makes my School Certificate totally irrelevant. I went to University of Georgia where I got the award as the best Ph.D student of my department and I have a plaque to show for it.
It is no secret that this man went to a military academy and senior officers' course adjudged internationally as equivalent to a master's degree. So what much do they want? This man gave Nigeria the best disciplined government it has ever had, sure, because of the character of the military government made him did some things which, in a democratic setting, may be considered as excessive but you can not compare how a man  will rule under a military regime with how he will rule under a democratic setting where there are checks and balances. The Buhari regime gave Nigeria a sense of direction and Nigerians are crying for that again.
Why do you think Buhari is running away to face GEJ in an open debate?
If I were Buhari, I won't dignify Jonathan by engaging him in debate and the reason is simple. On  every serious matter, this man(Jonathan) has told the country nothing but endless lies. Has he told this country what happened to the N100billion pension fund?
This is the only country where a Level 14 officer will be guarded by 29 policemen and where when he was asked to come to the National Assembly to answer questions how he mismanaged the fund of the nation he was allowed to escape.
Has Jonathan ever told this country what happened to two full loads of helicopters carrying nothing but foreign currencies arrested outside our border and traced to this country and surrounded himself with jokers who called themselves pastors, men who professed God but knew nothing about God. Has he told this country what happened to the 49billion dollars that Sanusi said was missing, though they went to deny that it was 30billion naira, then 20billion, the thing just keep changing.