By Onochie Anibeze reporting from London
Lithuania dominated on the stands and on the court, it was a one way traffic for them at the Basketball Arena here yesterday.
And when it ended, Nigerian players and their coach Ayo Bakare admitted that the team that they beat by a point in Venezuela to qualify for the Olympics had become a better team.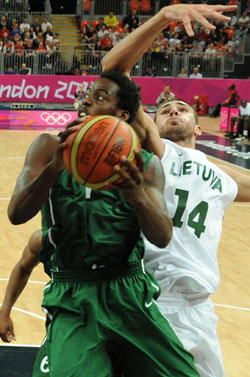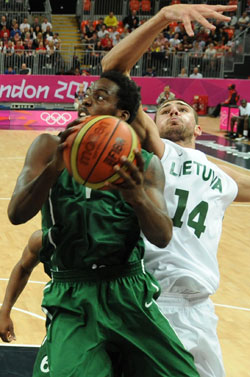 The match ended 72-53 but Bakare added in the post mach press conference that "nothing has changed" as the battle to qualify for the next round continues. They have more matches to play and should be facing Argentina, France and favourites USA.
"The defeat has not changed anything but it has made things more difficult," he said. It will truly be difficult for the team on Thursday when they face a Kobbe Bryant led USA team that is here to defend the gold they won in Beijing. Lithuania had a seeming easy game against Nigeria.
They led 14-8 in the first quarter and were never challenged. the second quarter ended 34-27 and by the end of the third quarter they led 56-40, winning the match at 72-53.
They enjoyed the game as the Lithuanians in the arena outnumbered the Nigerians who expected the D'Tigers to end their second victory after beating Tunisia on Sunday.
Quotes from basketballers
Aminu Alade
We didn't play well. They played better and won. We hope to turn things around. When you are down getting up is what matters.
That's what makes you a man. We hope to get up. But you must know that this is a youg Nigerian team that has been together for just three weeks. With time we will be stronger. There's future in Nigerian basketball.
Diogu Dike
We didn't play well. Defensively, we tried but other things failed. We didn't make shots and when you don't make shots you don't win.
Skinn Tonny
They played better. They did a better job than us.
Coach Kestutis Kemura
It was a good game for us. We were good mentally and matched that with good play. When you wi against a good team, a physically strong team you feel good. We knew the Nigerian team. They beat us in the qualification tournament and we came here and lost our first match against Argentina.
So, we were mentally ready, knowing that we just had to win although it was not going to be easy.We did a great job defensively and took away a great part of their game -one on one. We took 42 rebounds and didn't let them to dominate. We played aggresively but we played absolutley defensively.
When they beat us, we didn't expect the kind of game they played.
Ayo Bakare
In all things you give glory to God. We thank God for coming this far. Unfortunately we didn't get the results. Lithuania played well. I don't like complaining about officiating but this game was poorly officiated. Some referees took things personal.
They did poorly but that should not take anything away from the victory of Lithuania. I the officiating was good I'm not sure that we could have won. We had injuries and were not able to play as aggressive as we would have wanted. Injuries took a toll on our rotation.
They played so good to win and we played bad to lose. But we still have matches to play. We won our first match, Lithuania lost their first match and I strongly feel that it is still open although it will be tough.