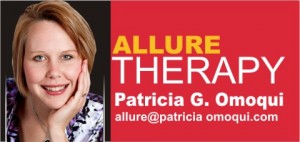 Empowering, encouraging, uplifting words—a steady diet of them gives me the added boost I crave on good days and the inspirational medicine I need on difficult ones. That's why I include a "Food For Thought" with each article I write for this column.
This week, I had lunch with fellow Naija wife and award winning reporter and news anchor, Sheinelle Jones, who currently co-hosts "Good Day Philadelphia," Fox 29's morning news show. I asked her how she had risen so quickly to this coveted position in TV journalism. She said she had known since she was a child that she wanted to be on TV.
Sheinelle's mother had always assured her that she could be and do anything she really wanted to. Her mother had done her another great favor: she continually posted inspiring words and famous quotes all over the house. As a girl,Sheinelle thought this was strange, but now she realizes that consistently seeing those powerful words created in her a foundation for success. When Sheinelle does motivational speaking for kids in schools, quotes pop easily into her mind, because she carries a wealth of wonderful words within her. She shared a favorite with me: "A woman is a like a tea bag—you never know how strong she is until she gets in hot water "(Eleanor Roosevelt).
As I drove home, I decided to use this week's article to offer you a great gift. I have compiled some of my favorite quotes. All of them focus on traits essential to your success. As you read through, put a star next to those that touch you deeply.
And remember, "Words do two major things: they provide food for the mind and create light for understanding and awareness" (Jim Rohn).
Adventure
"None of us suddenly becomes something overnight. The preparations have been in the making for a lifetime." Gail Godwin
"I feel very adventurous. There are so many doors to be opened and I'm not afraid to look behind them." Elizabeth Taylor
Attitude
"…Attitude to me is more important than facts. It is more important than the past, than education, than money, than circumstances, than failures, than success, than what other people think, say or do. It is more important than appearance, gift or skill. It will make or break a company…a church…a home. The remarkable thing is that we have a choice every day regarding the attitude we will embrace for that day. . ..I am convinced that life is 10% what happens to me and 90% how I react to it. And so it is with you. We are in charge of our attitudes." Charles Swindoll
"A man sees in the world what he carries in his heart." Johann Wolfgang Goethe, Faust
"No one can make you feel inferior without your consent." Eleanor Roosevelt
"You can't expect people to look eye to eye with you if you are looking down on them." Anonymous
Courage
"You gain strength, courage, and confidence by every experience in which you really stop to look fear in the face. You must do the thing which you think you cannot do." Eleanor Roosevelt
"One isn't necessarily born with courage, but one is born with potential. Without courage, we cannot practice any other virtue with consistency. We can't be kind, true, merciful, generous, or honest." Maya Angelou
"A coward gets scared and quits. A hero gets scared, but still goes on." Anonymous
"Twenty years from now you will be more disappointed by the things you didn't do than by the ones you did do. So throw off the bowlines. Sail away from the safe harbor. Catch the trade winds in your sails. Explore. Dream. Discover." Mark Twain
"One hundred percent of the shots you don't take don't go in." Wayne Gretzky
"Courage faces fear and thereby masters it." Martin Luther King, Jr.
"The hero is no braver than the ordinary man, but he is brave five minutes longer." Ralph Waldo Emerson
Creativity
"It is wonderful to be in on the creation of something, see it used, and then walk away and smile at it." Lady Bird Johnson
"There is a vitality, a life force, an energy that is translated through you; and because there is only one of you in all of time, this expression is unique." Martha Graham
"The most beautiful things in the world cannot be seen or even touched. They must be felt with the heart." Helen Keller
Discipline
"Discipline is the bridge between goals and accomplishment." Jim Rohn
"No man is free who is not master of himself." Epictetus
"He who conquers himself has won a greater victory than he who conquers a city." Proverbs
"The ability to concentrate and to use your time well is everything if you want to succeed in business—or in anything else, for that matter." Lee Iacocca
Faith
"Take the first step in faith. You don't have to see the whole staircase, just take the first step." Dr. Martin Luther King Jr.
"As we are liberated from our own fear, our presence automatically liberates others." Nelson Mandela
Maturity
"You grow up the day you have the first real laugh—at yourself." Ethel Barrymore
"You're never too old to become younger." Mae West
"If you have made mistakes. . . there is always another chance for you. . . you may have a fresh start any moment you choose, for this thing we call 'failure' is not the falling down, but the staying down." Mary Pickford
"The future belongs to those who believe in the beauty of their dreams." Eleanor Roosevelt
Motivation
"Our deepest fear is not that we are inadequate. Our deepest fear is that we are powerful beyond measure. It is our light, not our darkness, that frightens us most. . . . We were born to make manifest the glory of God that is within us.It's not just in some of us; it's in all of us. And when we let our own light shine, we unconsciously give other people permission to do the same. As we are liberated from our own fear, our presence automatically liberates others."
Marianne Williamson
"I am only one, But still I am one. I cannot do everything,But still I can do something; And because I cannot do everything I will not refuse to do the something that I can do." Edward Everett Hale
"Accomplishment of purpose is better than making a profit." Nigerien Proverb
"Ability is sexless." Christabel Pankhurst
Persistence
"It is not because things are difficult that we do not dare, it is because we do not dare that they are difficult." Seneca
"Problems are only opportunities in work clothes." Henry J. Kaiser
"You can't do anything about the length of your life, but you can do something about its width and depth." ShiraTehrani
"To reach a port we must sail, sometimes with the wind and sometimes against it. But we must not drift or lie at anchor." Oliver Wendell Holmes
"Our greatest glory is not in never failing, but in rising up every time we fail." Ralph Waldo Emerson
"Never, never, never give up."Winston Churchill
Opportunities
"Opportunities are usually disguised as hard work, so most people don't recognize them." Ann Landers
"If your ship doesn't come in, swim out to it." Jonathan Winters
"Small opportunities are often the beginning of great enterprises." Demosthenes
"The pessimist sees difficulty in every opportunity. The optimist sees the opportunity in every difficulty." Winston Churchill "Luck is what happens when preparation meets opportunity." Darrell Royal
"The toughest part of getting to the top of the ladder, is getting through the crowd at the bottom." Anonymous
Purpose
"To understand the heart and mind of a person, look not at what he has already achieved, but at what he aspires to." Kahlil Gibran
"Life without a purpose is a languid, drifting thing; every day we ought to review our purpose, saying to ourselves, 'This day let me make a sound beginning.'" Thomas Kempis
"It is not our purpose to become each other; it is to recognize each other, to learn to see the other and honor him for what he is." Hermann Hesse
"My life is my message." Mahatma Ghandi
"Here is my wish for you and every other child, woman, and man on the face of the earth: Spend one week saying only kind, caring things to yourself. Say thank you at least ten times an hour, direct five toward yourself and five to the world at large. Compliment yourself (and others) each time an effort is made. Notice all the wonderful qualities and characteristics about yourself and those around you. One week. You will never go back. And your whole life will be a glorious meditation." Cheri Huber
"I believe that we are solely responsible for our choices, and we have to accept the consequences of every deed, word, and thought throughout our lifetime." Elizabeth Kubler-Ross
Your assignment this week is to surround yourself with these nourishing words. Put them up on your walls, near your bathroom mirror, in your pocket or purse, at the office. Put them in places where you naturally gaze so that you can read them again and again and again. Infuse your thoughts with rejuvenating words. As you do, keep in mind "Thought is the blossom; language the bud; action the fruit behind it" (Ralph Waldo Emerson).