By SAM EYOBOKA
NIGERIAN women who are always at the receiving end of any national crisis are leaving nothing to chance in the efforts to have free, fair, transparent and acceptable elections come April. Recently, an interfaith, non-partisan and non-profit organisation, Women in New Nigeria for Development and Positive Change also known as WINN launched its voter-education sensitisation programme in Abuja with fanfare.
The campaign tagged 'Voter-Education and Sensitisation Treat' opened on March 7, at the Radio House, Abuja with eminent Nigerians in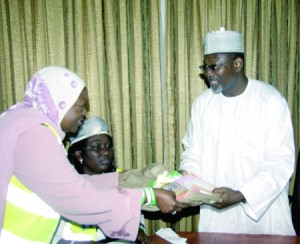 attendance. The guest speaker was the distinguished elder statesman, Alhaji Maitama Sule, Dan Masanin Kano, who was at different times minister and ambassador. His talk centred on Nigerian leaders and leadership, stressing the need to strengthen the electoral process so that leaders are genuinely elected otherwise the electorate will continue to suffer.
"As long as leaders are not elected, they (leaders) will not respect the electorate. Leaders should be elected so they will realise the greatness of this nation," the eloquent ambassador enthused.
Drawing intermittent applauses from the audience with his moving words, the guest speaker recalled what leaders of yesterday were in Nigeria, pointing out that though political leaders had differences, but "they always reunited because of national interest". According to him, the Sardauna, late Sir Ahmadu Bello, a northern Muslim lived harmoniously with non-Muslims in the South.
Inspite of the factors standing on the way of robust democracy in the country, Sule was however, optimistic, saying: "My name is Sule—I'm Joseph the dreamer. I too dream dreams. I have a dream that Nigeria will be reunited, will be prosperous. But for that dream to be realised, we need leaders. We must fight corruption and instil discipline in the society. I call for a revolution, not violence!" He condemned leaders whom he described as looters.
The head of traditional rulers in the Federal Capital Territory (FCT), the Ona of Abaji, Alhaji Adamu Baba, who sat next to the guest speaker expressed happiness for the event, noting that with such programmes, the general elections will be successful.
The convener of the treat/initiator of the Women in New Nigeria for Empowerment and Positive Change, Apostle (Mrs.) Eunice Gordon-Osagiede explained that the campaign was borne out of concerns to make the elections peaceful and successful.
She said the programme was designed as "one of the contributions of our organisation to Nigeria's development in general and in particular, achievement of free, fair, transparent and credible elections in April." The public enlightenment programme which is nationwide, she said, is to complement the ongoing flurry of activities and efforts towards ensuring successful elections.
Apostle Gordon-Osagiede spoke passion-ately and extensively on the need to make democracy flourish. According to her, history beckons on our dear nation for successful electoral exercise as, one way or the other, a monumental landmark in our struggle for socio-economic and political survival as a nation. Already, various frightening impressions are being painted of the elections in the media, with some analysts calling it a 'make or break' event.
"However, our collective experience as a nation that once fought a civil war, in addition to the unfolding electoral debacle in the sister West African nation of Cote d'Ivoire, are sufficient lessons and reasons for us to steer our country away from any avoidable crisis that may arise from flawed elections."
The apostle believes that flawed elections breed corruption and bad governance. When this happens, she said, there is increased poverty and socio-economic depravation which can easily engender social unrest and even civil wars. This, she argues, leaves mostly women and children as the worst victims.
The focus of the group which, she said, comprises patriotic volunteers determined to see a birth of a new Nigeria. Gordon-Osagiede, who is the General Overseer of the Spirit and Life Bible Church, vowed to take the campaign to all the 8,814 wards in all the 37 states of the country so as to reach the grassroots.
At the end of the speeches, voter-education materials were displayed and distributed. Posters and flyers bearing inscriptions like: "Don't sell your vote, your vote is your right, make sure you vote"; "No insults, play fair"; "Your role as a good citizen" were displayed at the venue. T-shirts and fez caps with similar inscriptions were given to guests.
The women comprising Muslims and Christians then locked their arms and rendered "the WINN anthem".
Rising from the Radio House, the women proce-eded in a carnival-like roadshow visiting places like Utako Market, Wuse Market, Garki Market and the headquarters of INEC, NTA and AIT.
WINN, founded on August 22, 2010 assists destitutes particularly women to acquire skills for self-sustenance and economic empowerment.
WINN an answer to Nigeria—CAN scribe
Receiving the delegates, the National Secretary of CAN, Engineer Samuel Salifu declared March 16, 2011 would remain in-delible in the minds of all members and staff of the umbrella body of Christ-ians, as members of Wo-men in the New Nigeria for Empowerment and Positive Change (WINN) paid a courtesy visit to the CAN offices in Abuja.
Apostle Gordon-Osagiede a woman passionate for a better and progressive Nigeria took time to highlight the aims and objectives of WINN to the CAN scribe. She said WINN is birthed on the altar of agonizing prayer to God for direction on how to move Nigeria forward.
Among the things WINN stands for, according to her, include: Nigeria as an egalitarian society free of corruption, where peace, tranquility, progress and equality prevail, empower-ing women to change the nation's battered image, eradicating corruption through enlightenment programmes, trainings, rallies, micro-credit sche-mes, advocacy, networking by leadership and commi-tted Christian and Muslim volunteers nationwide. WINN through one of its arms, Voter-Education Sensitization Treat (VEST) is educating all Nigerians on the need for one-man, one-woman one-vote. The apostle stressed that for the nation to progress, every citizen must come out to cast and defend his/her vote.
Reasponding, the CAN Secretary who received the team said, "Initially, I taught WINN is just like any other organisation seeking cheap recognition and publicity, but haven understood its aims and objectives I believe WINN is an answer to Nigerians' prayers for a selfless committed citizen's service to reawaken the minds of Nigerians to do what is right at all times. Haven seen all kinds of indivi-duals and organisations who make all kinds of claims, but fail to deliver, I know for sure WINN is for real."
The CAN secretary said the men of God that are supposed to be role-models have allowed greed, self-ishness and covetousness to become their primary focus at the expense of the Master's assignment, reaffirming that "women are known to be patient, enduring what insult that comes their way; they have the ability to brokerage peace at all times. To me and on behalf of the CAN president, Pastor Ayo Orit-sejafor, we are giving our strong support to this uncommon service to humanity and our dear country Nigeria."
I support WINN
—Jega
On March 21, 2011, the WINN team proceeded to the headquarters of INEC where Apostle Gordon-Osagiede again outlined the objectrives of WINN, saying that members seek an egalitarian society free of corruption, where pea-ce, tranquillity, progress and equality prevail, among other things. WINN, according to the initiator, has rehabilitated so many militants from the Niger Delta through one of her arms called Youth of Excellence and is educat-ing all Nigerians on the need for one-man, one-vote. WINN is all out to re-orient the minds of Niger-ians on the need to do things right always and at all the time.
The chairman of INEC, Prof. Attahiru Jega with some of his officials includ-ing Prince Adedeji Soyebi, Dr. Abdulkabir Oniyanju, Dr. Chris Iyimoga and Dame Gladys Nwafor received the team with great joy. Responding to the initial remarks, the INEC chairman believes the organisation is out to help INEC succeed. Co-mmending the team, Prof. Jega expressed gratitude to the initiator for WINN's uncommon resolve to assist in sensitising Nigerians on the need to make a success of the coming election. "I am encouraged to have WINN's support to make Nigerians proud. I am equally impressed by the efforts of WINN to ensure peace and order in the Niger Delta through re-orienting the minds of some our youth in that region," said Prof. Jega, promising to do every-thing possible to encour-age and support WINN to carry out this laudable vision of meeting Nigeria great again.
WINN flagged off her sensitization campaign in Abuja on March 22, with the hope of taking the initiative to all the six geo-political zones of the fed-eration before the polls.