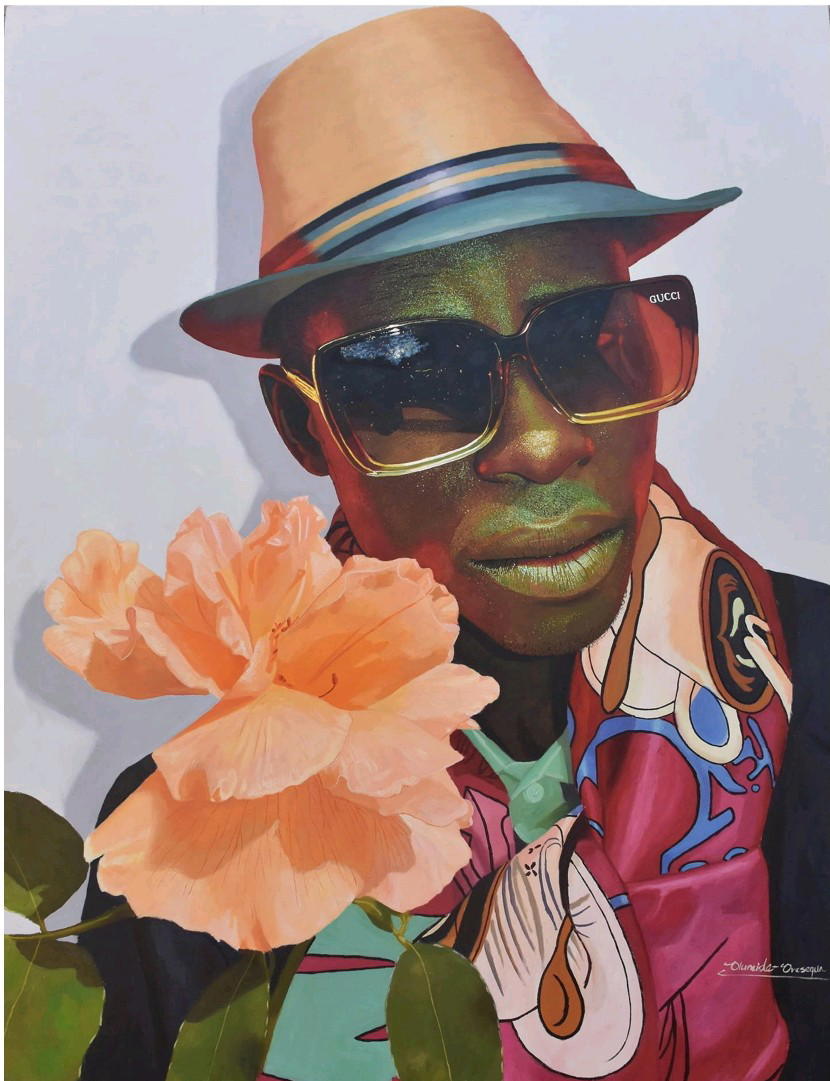 By Osa Mbonu-Amadi  
Every generation of modern and contemporary artists assert their prowess by taking a notable spot on the landscape of art. For Africa and Africa diaspora's contemporary art scenes, Olumide Oresegun keeps expanding his touch in fresh realism, since his art was launched into the global space from his Nigeria base, in 2011.
From making his debut exhibition titled Moment of Reason, at Mydrim Gallery, Ikoyi, Lagos in 2011, Oresegun has created steady followership for his hyperrealism art, across generations and cadre of art lovers within Africa and other regions. An artist whose exceptional smooth brush movements capture mostly human activities, Oresegun also brings diversity to his application of colours, with great dramatic depths.
Oresegun's painting, particularly of figuration is so eclectic, yet sustaining a consistent signature of an artist who has great movements of brush creating realtime captures of people in action. Examples of such paintings are Enhanced (oil on canvas, 153 X 128cm, 2017), Hydraulic Head 2 (oil on canvas, 48 X 54cm and Musa and Moses (oil on canvas, 153 x 183cm, 2017). For each of the paintings, Oresegun applies textures that range from natural light to other varieties that make skin tones more dramatic.
If critics of hyperrealism argued that art should not replicate photography, the style and technique implore by Oresegun already preempt such critique. Apart from creating hyperrealism painting, Oresegun brings more poetic texture to his works, perhaps to create an edge over whatever photography would have brought in certain situation.
"Without a wealth of experiences, past or present to pull from, art might not exist," Oresegun said. "My work is borne out of a constant passion to revisit the stories of my past and bring it to the present with the aid of paint and brushes." He explained how the face of his childhood "is reflected in every child I paint as those of adults reflect my generation and current situation." Among such paintings that celebrate the excitement of childhood are Liberty Days, Shyness, Hydraulic Head and Showers of Blessing, among others.
Connecting Africans, home and the diaspora, Oresegun, in other works explains the value of holding on to traditional contents in fashion. "Africans in the diaspora, inspired by the influences of Western culture, without forgetting their African roots, also surface in my work. From a nostalgic standpoint, many of the costumes of my grandparents blended with the fashion trends of today also appear."
Flaunting the eclectic quality of his style and technique, Oresegun in quite some of his newest works introduce contemporary textures of painting skins. Yes, the artist's mastery display of painting skins in near perfect realism has been the strength of his art. However, the dynamics of his painting extends in some of the the Enhanted and Lolipop series, among others. "I like the idea of changing skin tones to different colours in some cases to reflect the adaption of African colours to the new environments of these unsophisticated migrants."
Representing a new phase of Nigerian renaissance, Olumide has been inspiring fresh wave of art appreciation as his art is breeding interests within Africa and African diaspora in fresh hyperrealism textures. With a steady and rich progress on the art exhibition circuit, Oresegun keeps doting the global art landscape with his signature. His recent exhibition Patterns Perspective at Muzeo Museum, Anaheim, California, U.S, opened in June, showing till September, 2022. And later in the year, his works will be on display at Spectrum Miami, in December.
The artist's courageous strokes on canvas that cut across modern and contemporary periods is a deliberate step with precision aim of blueing tradition. "Meticulously creating a realistic description of each individual expression, blurring the traditional and contemporary line to build on the aesthetic without neglecting the narratives," Oresegun explained his path through realism mastery.
From cradle, he grew up being deliberate about art when his mother bought a sketch pad for him at age of 9. And whatever he admired, but couldn't put into painting at that tender age, seemed to be one of his strongest themes now; the world of children. And at 19, he started his formal training at one of the foremost art institutions in Nigeria, School of Art Design and Printing, Yaba College of Technology, Lagos, where he graduated with Distinction in Painting.
After graduation, Oresegun lifted his art to celebrate mastery application of colours with precision in draughtsmanship skill, and started getting attention from the mainstream Nigerian art market. And going forward, Oresegun took advantage of the global space when his interview on CNN generated huge followership for his art.
As much as an artist's work should speak for itself, communicating the essence and trajectory of creative piece acquires stronger strength in added statement. "In my paintings, I hope to communicate the same emotional response that I felt and inspired by," Oresegun's artist statement explained. "Sometimes my model's personality, at a given moment makes me to paint a subject at one time, just as my dreams of clarifying the story the way I remembered it also urge me to bounce on each canvas without leaving any details untouched."
From quite a number of solo art exhibitions in Nigeria, Olumide's art of refreshed hyperrealism has featured in auctions of Arthouse Contemporary, in Lagos and Sotheby's in London.
Subscribe for latest Videos