By Onochie Anibeze
Once, in my sports column, I wished Abdulrahman Abdulrazaq were a governor or a sports minister or close enough to the President to influence sports development in the country. I wrote so in confidence based on the respect I had developed for him for his knowledge and passion for sports. And two years ago, I couldn't help writing the piece below when, on the eve of his birthday. our chat was all about sports. I reproduce this today for Nigerians, especially Kwara people to have another picture of this man who is now the governor-elect in Kwara State.
Before his election last Saturday, when the O to ge movement was loud in Kwara one time international and now sports consultant, Bruce Ijirigo sent me a mail, saying "Kwara may become the sports capital, the Mecca of sports in Nigeria when Abdulrahman becomes the governor."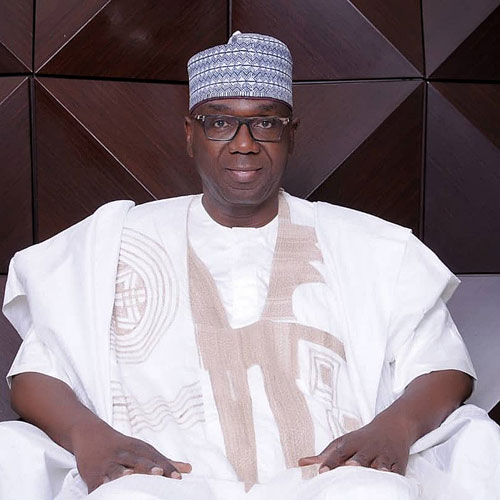 Bruce probably summed up the expectations of many who know Abdulrahman. He has huge responsibility in healthcare, agriculture, infrastructure, payment of salaries and very importantly sports as a business in Kwara State. We will hold him accountable, especially in sports which is my bias. There will be more on Abdulrahman but for now, I serve the piece I published February 4, 2017. I never, at the time dreamed that Abdulrahman would be governor of a state. The piece was titled 'Abdulrahman's birthday presentation' Read on:
Immediately Stephen Keshi got the Eagles coaching job in November 2011 he searched for two people. They were Abdulrahman Abdulrazaq and Noel Okorougo.
I joined in the search and led him to Okorougo's house in Asokoro, Abuja. Noel lives in Geneva, Switzerland but had a house in Abuja. He held useful talks with Chief Okorougo. Abdulrahman was not in the country at that time, and Keshi had to schedule a meeting for another time. Why was he looking for these gentlemen? Keshi had been around long enough in Nigerian football to know who could help him succeed.https://www.vanguardngr.com/2019/03/apc-women-youths-protest-delta-guber-results/
There are people who always do a lot behind the scene. They are not loud. They work silently and achieve results that many would attribute to some "noise makers." Noel was the sports financier who also marketed Nigeria to earn a fat Nike contract shortly after the USA '94 World Cup. But he did a lot more for Nigerian football behind the scene. Many players at that time would easily attribute their success to the leads Noel exposed them to. Abdulrahman was another silent worker. He is a Nigerian whose knowledge of the game is tremendous, and whose passion and support for football know no bounds.
How many people know that he set up Abuja FC sponsored by EFCC? I met Abdulrahman in January 1998 in Burkina Faso while covering the Nations Cup. He wore a Nigerian track suit at the VIP Box in one of the matches. His attire attracted me. Who could this be, I asked. Nigeria was serving the ban for refusing to play in the 1996 edition in South Africa. World hero Nelson Mandela had condemned Nigeria's General Sani Abacha for executing Ken Saro-Wiwa and the diplomatic impasse that followed led Abacha to pull Nigeria out of the competition that the country was the defending champion, having won the last tournament in Tunisia in 1994.
So I was surprised to see a Nigerian who came to watch the Nations Cup that Nigeria was not part of. He must love the game. I approached him, and we discussed. It did not take a long time for me to note the passion in him. He was also at France '98 World Cup, but my trips to different cities of France in pursuit of stories did not make it possible for us to meet.
But in the next Nations Cup competition, he served as a pundit for Vanguard and his points made interesting reading. From Nations Cup to European Championships and to the World Cups and Olympic Games Abdulrahman moves around with a bubbling enthusiasm for sports. And he supports sports men and women in various ways. Little wonder Keshi searched for him because when it is about sports he gives it his all. Tomorrow is February 5, Abdulrahman Abdulrazaq's birthday that usually falls in the thick of the Africa Nations Cup. And the Eagles usually celebrate with him as some pf the pictures here show. Rather than discuss his life on his birthday, this son of the famous Abdulrazaq, a first republic minister from Kwara, was as usual, talking sports yesterday, espousing his long-held view that "Sports can be better in Nigeria if the government decides to prepare the grounds for its development. The private sector would be attracted later, but the enabling environment must first be there." More excerpts:
INFRASTRUCTURE
We have villages, towns, Local Government Areas, etc. How many play grounds do we have in these areas? If every Local Government tries to develop one playground (not necessarily stadium) you can't believe what can come up from that level. Just a play ground with a soccer pitch and one track field. When we have that, we will be developing the culture of sports. Those who can can afford it may include multipurpose court. You can't have such infrastructure and talents don't spring up from such places.
SCHOOLS
The Ministry of Education should ensure that schools develop sports facilities. These were in our schools before. How can we have schools without sports grounds? The schools remain the best grounds to discover and begin to nurture sports potentials. Sports may not develop if the Ministry of Sports does not have some synergy with the Ministry of Education. They must see the reason to work together for sports development. The sports ministry should know the programmes in schools so that they can send coaches to scout for talents. Our tertiary institutions must begin to do sports again and award sports scholarships to deserving students.
COMPETITIONS
Competitions are important from the local government areas to schools and zones. Ministry of Education must organise competitions among schools in the zones and the state. The Ministry of Sports can support with technical hands and send coaches to scout for talents. The schools will remain the base for any sports revolution we intend to carry out if the government decides to develop sports and make it an industry. Some residential estates should be encouraged to develop playgrounds too. They can afford them. It is just that we have not started developing such a sports culture. With infrastructure comes talent hunting and nurturing. School competitions will be there, but there should be a big National School Sports Festival like they have in Jamaica. Whoever wins any event in such a competition is likely to be a national and international star. Many of the top athletes from Jamaica were champions of the school sports competitions. Usain Bolt is a product of the school competition. Same with Powell and many others. In America, it is the Collegiate system. The universities are the grounds where stars are made. We can develop a good structure that makes competitions classy from the zones to the school games and at the universities. That way, we can have local champions and elite athletes who can be world champions.
PROFESSIONAL LEVEL
https://www.vanguardngr.com/2019/03/dtigers-have-potential-to-shock-the-world-at-2019-fiba-world-cup-ahmedu-says/
At the professional level (if there's anything like that in Nigeria) our pro league clubs are still running without feeder teams, teams that should be playing their own league. It can be worked out. Players and coaches need to be on contracts, and such contracts must be respected. Our clubs can be better run. Club base is important. We have the population for the homes of our clubs to support them massively like they do in Europe and other places. There should be ways of enriching the clubs and making them more viable.
Something must be done to officiating. Recently, things appeared to have improved, but we can still do better. We still need facilities and good pitches in our stadia. When we have top athletes that companies would want to identify with, then sponsorship will impact positively. When we have athletes the corporate bodies can sponsor and benefit from the visibility such would expose them to; I bet you many companies would want to come into sports. Some may even want to invest in the development and not just promotion of sports if the bright prospects are there. The government must think of ways to fund sports. The National Lottery is one, but they are not taking it seriously. It generates so much money in Britain and other places. I think that we have the potential to be a big sports country, but the government must lead the way for the private sector to follow. This is my position for our sports." Well said Abdulrahman. I wish you many happy returns.
Happy Birthday, sir!
Read more at: https://www.vanguardngr.com/2017/02/