Governor Akinwunmi Ambode of Lagos State and All Progressives Congress , APC deputy gubernatorial candidate, Dr. Obafemi Hamzat, on Saturday, delivered their polling units to President Muhammadu Buhari.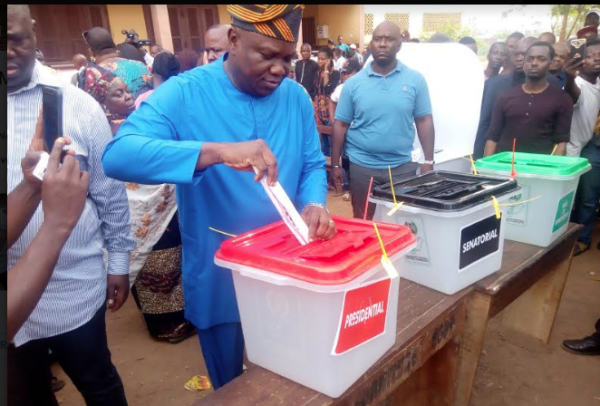 They ensured that the APC candidate with his rival with wide margin to show their loyalty to the party.
At Ambode's Ward A5, polling unit 033, Ogunmodede College in Ajaganabe Area, Papa Epe, Buhari polled 131 votes as against People's Democratic Party, PDP candidate, Atiku Abubakar, who polled 116 votes.
Ambode, however, could not deliver his ward for the party's Senatorial and House of Representatives candidates.
Meanwhile, Hamzat delivered his polling unit completely to the candidates of APC, despite the hitches recorded at the polling unit.
At his polling unit, Buhari polled 136 votes as against Atiku's 75 votes.
Also, the Party's senatorial candidate, Bayo Oshinowo recorded 138 votes while his PDP counterpart, Oyefusi had 74 votes.
At the House of representatives, PDP candidate scored 75 while APC had 137 votes.
Earlier after casting his vote, Ambode, in an interview with pressmen, commended the peaceful process and asked the people to come out and exercise their franchise.
"I have just performed my civic right; I have voted successfully in my polling unit and from the information I already have across the State, I can observe that the election is going on peacefully across the State.
"I am delighted that Lagosians have been very cooperative. We have had peaceful night and ever since the morning also, everywhere has been very peaceful," he said.
Subscribe for latest Videos