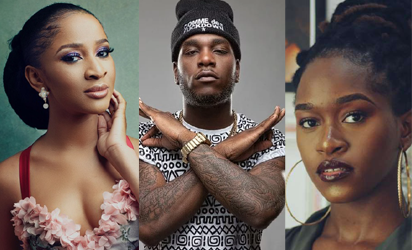 Adesua-Burna Boy-Maraji
Nigerian singer, Burna Boy, actress Adesua Etomi and commedienne, Maraji are among nominees for the 2018 edition of the Future Awards (TFA).
TFA, which is in its 13th year is the biggest youth award in Africa and celebrates young people between the ages of 18-32 who have made outstanding acheivements.
The 2018 nominations, which were announced by Ex-BBNaija housemate, Lolu Shomuyiwa and media personality, Ayo Mairo-Ese on Sunday night, features 100 nominations across 20 tough categories.
According to TFA's official website, the list represents a new class of innovators, philanthropists, activists, entertainers, technocrats and creators.
These youths are promoting the shared values of creativity, social good, and innovation while making impact in entertainment, professional service, agriculture, business and sports.
See full list below
The Future Awards Africa Prize for Acting
Zainab Balogun (29)
Maryam Booth (24)
Bisola Aiyeola (32)
Adesua Etomi (31)
Alex Ekubo (32)
The Future Awards Africa Prize for Advocacy
Charles Odii (30)
Hauwa Ojeifo (26)
Samira Sanusi (30)
Gospel Martins (30)
Uche Kenneth (31)
The Future Awards Africa Prize for Agriculture
Abdulfatah Sadiq (31)
Abubakar Sadiq Falalu (28)
Jesse Osiobe (31)
Oluwafemi Aliu (25)
Ayodele Sipasi Olalekan (32)
The Future Awards Africa Prize for Business
Ladipo Lawani (30)
Sunkanmi Ola (26)
Chidi Ajaere (31)
Ronke Bamisedun (31)
Mohammed Jammal (31)
The Future Awards Africa Prize for Comedy
Samuel 'Broda Shaggi' Perry (25)
Gloria 'Maraji' Oloruntobi (23)
Mark Angel (27)
Lasisi Elenu (29)
Adeyela 'Omo Ibadan' Adebola (23)
The Future Awards Africa Prize for Creativity
Ken Nwadiogbu (24)
Kingsley Ayogu (23)
Ayobola Kekere-Ekun (25)
Haneefa Adam (27)
Uche Ugo (31)
The Future Awards Africa Prize for Fashion
Tosin 'Style-Infidel' Ogundadegbe (30)
Ozinna Anumudu (26)
Papa 'Maxivive' Oyeyemi (26)
'Emmy Kasbit' Emmanuel Okoro (28)
Amy Akudo 'Shekudo' Iheakanwa (29)
The Future Awards Africa Prize for Journalism
Hannah Ojo (30)
Linus Unah (26)
Kemi Busari (29)
Festus Iyorah (25)
Taiwo Adebulu (29)
The Future Awards Africa Prize for Music
Damini 'Burna Boy' Ogulu (27)
Simisola Bolatito Ogunleye (30)
Niniola Apata (31)
Folarin Falz Falana (28)
Adekunle Gold (30)
Adewale 'Mayorkun' Mayowa Emmanuel (25)
The Future Awards Africa Prize for New Media
Nkechi (Ink) Eze (29)
Hope Obeten (30)
Fisayo Fosudo (22)
John Obidi (32)
Chidi Okereke (30)
The Future Awards Africa Prize for On Air Personality (Radio)
Awazi Angbalaga (24)
Sophia Anidugbe (28)
Cassandra George (24)
Foluwake 'Folu Storms' Ogunkeye (31)
Paul McPetros (24)
The Future Awards Africa Prize for On-Air Personality (TV)
Tomike Alayande (23)
Idia Aisien (27)
Olive Emodi (29)
Victor Mathias (31)
Osasu Igbinedion (26)
The Future Awards Africa Prize for Photography
Tope 'Horpload' Adenola (29)
Emmanuel Oyeleke (30)
Damilola Onafuwa (27)
Chidi 'Lex Ash' Ashimole (27)
Fati Abubakar (32)
The Future Awards Africa Prize for Technology
John Oke (24)
Adegoke Olubusi (25); Tito Ovia (25); and Dimeji Sofowora, (26)
Odunayo Eweniyi (25), Joshua Chibueze (25), Somtochukwu Ifezue (27)
Obi Omile Jr. (27)
Uchechukwu Emmanuel (25), Esumeh Aaron (25), Godwin Nwangele (24), Udeh Isaac Nnaemeka (26), and Kingsley Okereke (28)
The Future Awards Africa Prize for Sports
Tobi Amusan (21)
Evelyn Akator (23)
Ahmed Musa (26)
Thursdaline Peters (31)
Ndidi Wilfred (21)
The Future Awards Africa Prize for Screen Producer
Nadine Ibrahim (24)
Faraday Okoro (31)
Michael Psalmist Akinrogunde (23)
Adelapo 'Lowladee' Adeleke (28)
Noni Salma (32)
The Future Awards Africa Prize & University of Sussex for Education
Lubem Mtile, (29)
Wole Adedoyin (32)
Brenda McWilson (25)
Itodo Anthony (31)
Gideon Olanrewaju (31)
The Future Awards Africa Prize for Professional Service
Uche Okafor (30)
Chinwe Egwim (31)
Catherine Kemi Onabanjo (31)
Mavi Mudiaga-Erhueh (28)
Temi Marcella Awogboro (31)
The Future Awards Africa Prize for Public Service
Dami Ajayi (32)
Ebenezer Wikina (26)
Dr. Betta Edu (31)
Rukayat Mope Azeez-Lawal (31)
Daniel Philemon Saredau (30) (NAN)