By Esther Onyegbula
Operatives of the Rapid Response Squad of the Lagos State Police Command have re-arrested a robbery suspect, Okunola, five days after he was released from Ikoyi Prisons.
His new victim, identified as Gift Omini, was waiting for a colleague to pick her to work when the duo of Adigun and Okunola accosted her at about 4.45a.m.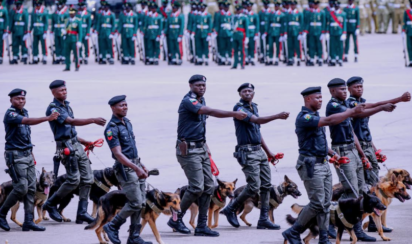 Her shout for help attracted a team of RRS on patrol, who chased and caught up with the uspspects.
The victim, Omini, said: "They rode on a motorcycle and used a short axe to forcefully collect my mobile phone. My shout for help attracted the attention of RRS officers, who chased and arrested them."
Seventeen hours later, two other suspected gang members— Raimi Fatai and Yusuph Balogun—were arrested at the National Stadium after snatching a hand bag from another female victim, at night.
https://www.vanguardngr.com/2018/10/42-year-old-man-allegedly-steals-n112000-motorcycle-gets-n50-000-bail/
During interrogation, Okunola disclosed that he was released from Ikoyi Prisons on October 5, after spending six months and two weeks.
The suspect, who claimed to be a barber, said he intended to raise money for his freedom from apprenticeship.
He said: "If I am set free, I swear, I will leave Lagos State. My plan was to use the money realised for my freedom. I didn't know I would be sent back to where I just came out from. Oh, what misfortune!"
Fatai and Balogun, who reside at Boundary, Ajegunle area of the state, also said: "We were trying to raise money for freedom after undergoing training as barbers."
The Command's Public Relations Officer, CSP Chike Oti, who confirmed the arrests, said the command would not leave any stone unturned in its resolve to make Lagos State unsafe for criminals.
https://www.vanguardngr.com/2018/10/police-arrest-man-for-claiming-to-be-a-lawyer/
Subscribe for latest Videos