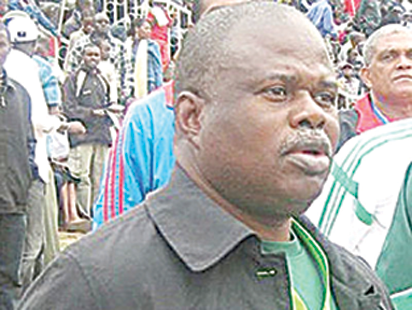 Solomon Ogba
Solomon Ogba
Local organizing committee chairman for the 21st African Athletics Championships, Solomon Ogba has assured that the competition will not be hindered when the events roll out today.
Asaba 2018 was somehow caught in traffic as the logistics of accommodating and transporting athletes and coaches ran into a snag. Apart from these; basic facilities like the floodlights, scoreboards and media working area are yet to be functional at yesterday evening with workers in frantic efforts to get the stadium ready.
"Why don't you wait till Wednesday and see whether things will not work," said Ogba when pressed comments about the developments.
The floodlights masts have not been erected and this may now force technical officials to work rapidly within day. However, one of the Stadium officials hinted.
"If the equipment come on time they will be installed. However we have other alternatives on standby."
On transportation the LOC yesterday had to hire chattered aircrafts to clear the teams that are still at the Lagos international airport waiting for transit to Asaba.