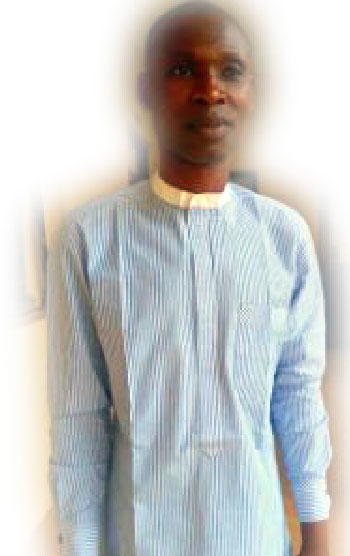 Andrew Ogbuja
…Victim down with VVF
… as FUT Minna dismisses lecturer over sex-for-mark scandal
By Peter Duru
Makurdi—A 51-year-old Senior Lecturer in the Department of Catering and Hotel Management, Benue State Polytechnic, Ugbokolo, Andrew Ogbuja, has been nabbed and dragged to court for allegedly raping his 13 years old housemaid.
Mr. Ogbuja's teenage son, Victor, was also alleged to have been part of the sexual molestation of the victim, but is now at large.
Andrew Ogbuja, who was arraigned before a Makurdi Upper Area Court on Monday, was arrested last Friday after the victim's family raised the alarm.
When the case came up, the accused pleaded with the judge to temper justice with mercy, asking to be granted bail so he can go back home to have the matter resolved amicably, considering his status, especially as he was caught in the act.
The accused, who spoke through his counsel, David Ojile, equally promised to take full responsibility for the treatment of the victim, saying it was a family matter.
His plea was, however, rejected by the trial judge, Mr. Sam Kwen, who ordered the lecturer remanded at Makurdi Federal Prisons.
The case
Earlier the Police prosecutor, Inspector Patrick Sunday, told the court that on August 8, at about 12 noon, the International Federation of Women Lawyers, Benue State chapter, in company of one Rose Abah of Ogene Amadu Edumoga, Okpokwu Local Government Area of the state, reported the matter at the Criminal Investigation and Intelligence Department, CIID, of the state police command.
According to the prosecutor, "from the First Information Report, FIR, before the court, Mrs. Abah claimed that sometime in February, when her 13-year-old daughter was sick and admitted at Federal Medical Centre, Makurdi, she told her that when she was staying with her cousin-sister, Felicia Ogbuja in Ugbokolo town between 2013 and 2015, her son, Victor Ogbuja, raped her.
"She further said that her cousin's husband, Andrew Ogbuja, also had canal knowledge of her."
He said during police investigation, the said Andrew Ogbuja was arrested, while the said Victor Ogbuja was at large, noting that "the offence is punishable under Sections 97 and 284 of the Penal Code of Benue State 2004."
However, no plea was taken because the court lacked the jurisdiction to hear the case, while the judge, Mr. Kwen, adjourned the case to September 24.
Sodomised, too
Speaking to newsmen after the court sitting, a caregiver and Founder of Restorer of PathCare Foundation, Evangelist Enewa Soo, stated that sometime in June, the case was reported to her through the International Federation of Women Lawyers and she has since been making sure that the victim's health was restored.
Soo said: "At the time they brought the girl, she was very sick and when we began to make our findings, we discovered that she was actually raped and the doctors confirmed that she was allegedly sexually abused through the virgina and the anus by one Victor Ogbuja, her guardian's son.
"Since then we have been trying to see how we can restore her health. We took her to a teaching hospital where series of tests were carried out and she has also been booked for Vesicovaginal Fistula, VVF, operation in Jos, Plateau State, from September 16 to 17."
Soo lamented that the girl had been emotionally and mentally depressed as a result of her situation and called on parents to beware of who they leave their children with.
The son started in 2013, says victim
Narrating her ordeal, the victim, a JSS 1 student of Federal Government College, Gboko, said her guardian's son first raped her in 2013 and warned her never to disclose it to anyone.
Her story: "It all started in 2013 when I came to live with my mother's sister in Ugbokolo because there was no school in my village.
"When I was eight years old, the son started sleeping with me and when his sister caught him, she reported him to their father and the father scolded him.
"From there, the father also started sleeping with me and I told my mother. My mother told my elder sister, who later took me to Makurdi for check up. Last year September, when I went to school and started feeling sick, I was taken to Federal Medical Centre, Makurdi, where I spent two months and five days before I was discharged.
"In the hospital, they discovered that what my aunty' son and his father did to me was responsible for my condition. My mother went to confront my aunty and the husband, but they did not take the matter serious, that is why we brought the case here. I want my health back."
FUT Minna
Meanwhile, the management of Federal University of Technology, Minna, Niger State, has sacked one of its lecturers, Omananyi Yunusa, over his involvement in sexual harassment of a female student of the institution.
The university's Deputy Director, Information and Publications, Lydia Legbo, said the dismissal of Mr. Yunusa, a lecturer in the Department of Geology, followed the outcome of investigation into alleged sexual assault of a female student in the department over marks.
The dismissal was approved during the University Council's 131st meeting after an investigative panel constituted by Vice Chancellor, Abdullahi Bala, found Yunusa guilty of inappropriate relationship with the student.
Students react
According to a student of the institution, "the news was kept away from media to avoid distraction. In fact, most other departments were not aware."
A colleague of the victim, who does not want his name mentioned for fear of victimisation, claimed that Yunusa's dismissal would "bring peace to the department. My Class Governor is a lady, but feels very reluctant when we want to have anything to do with Mr. Yunusa.
"It got to a time, we felt like impeaching her, only to realise that she was avoiding the lecturer because of harassment. We all got the notice about his dismissal; he disappointed himself."
The institution's Vice Chancellor said the dismissal of the lecturer would serve as lesson to others to ensure total elimination of sexual harassment in the university community.
The lecturer's dismissal follows a similar one in another university.
…other institutions
On June 20, Obafemi Awolowo University, Ile-Ife, dismissed a lecturer, Richard Akindele, after he was found guilty of misconduct with a female student of the school.
Also, on July 12, Lagos State University, LASU, issued a query to Sunkanmi Odubunmi, another lecturer involved in a scandal with a student. The case is before a Joint Action Disciplinary Committee.