By Gabriel Olawale
Residents of 15 communities in Ikorodu North Local Council Development Area have sent a distress call to Lagos State Governor, Akinwunmi Ambode over the uncompleted Primary Healthcare Centre, PHC serving the area.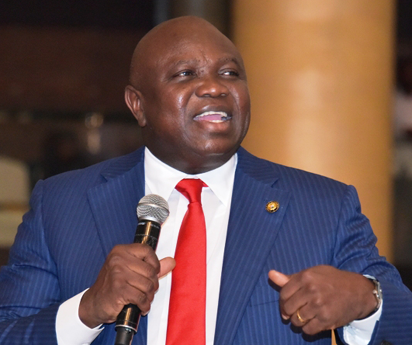 The communities that are made up of an estimated 70,000 population comprising Aiyetoro, Olorunda, Liadi, Eyinogbe, Igbaga, Ajegunle, Kajola, Itele, Araro, Monjoda, Okegbodo, Seun Idafa, Maya olorijo, have been unable to access qualitative healthcare services due to non-functionality of the health facility.
Findings by Good Health Weekly show that aside from the Olorunda PHC of which which the renovation exercise has been on hold since last year, the closest PHC (Parafa) within the area is about 40 minute-drive away due to the bad road and does not function at the weekend or take care of deliveries.
A nursing mother,  Aishat Moshood, told Good Health Weekly how she almost lost her baby as a result of the non-functionality of the PHC within her vicinity.
"I paid N4,000 to register for antenatal at Olorunda PHC and afterwards I was told that deliveries are not taken care of there. The only service rendered is antenatal care which I do attend every Monday. Most of the time they request that we bring urine sample for a test that we pay N300.
"When my delivery time got close, I was told to either go to the PHC in Imota Local Council Development Area or Ikorodu General Hospital,  about 45 minutes away by road."
Aishat said she later went into labour in the middle of the night and put to bed safely, with  intervention of a private hospital in the next community.
Ibidunni Idowu, an expectant mother, also expressed her displeasure.  "I am used to the nurses and matron in this Olorunda PHC. They are  nice and compassionate but once it's close to your delivery time, they will either referral you to Odogunya PHC or Imota PHC where it is  usually as if we are starting all over. There could be 30 – 50 pregnant women at the PHC for antenatal but none of them is delivered there.
"We are appealing to the Lagos State government to complete the PHC and make it functional for 24 hours so that we won't need to be travelling far to access healthcare."
In the view of Komolafe Dolapo, it is the wish of pregnant women in the communities to deliver at Olorunda PHC because the Ikorodu General Hospital is congested. However, he worried over the non-functionality of the Centre, "They don't attend to patients  on weekends and at any time after 3pm. You won't even see any staff around," he remarked.
The Baale of Maya Olorijo and Aiyetoro, Alade Olukoga said that the Olorunda PHC has been in existence for over 20 years but did not get attention until recently. "The place use to be occupied by bush and was not attractive to the community people, so we told the CDA Chairman to convey our agitation to government and I think that is why we have that little improvement, but no value to structure if there is no equipment, the building is fine but no equipment inside.
"We want government to help us equip the PHC because it serves 15 communities and will enable us take deliveries. We would be very Now I can see a matron and  three nurses,  it used to be Sonly one nurse.
"We will support in our own little way to ensure the place is maintained and also sensitise the community dwellers on the benefit of patronising hospital rather than herbal home.