By Rotimi Ojomoyela
ADO-EKITI—THE Chief of Defence Staff, CDS, Gen. Gabriel Olonisakin, yesterday, said youth empowerment remains the only panacea to tackling poverty and insurgency in the country.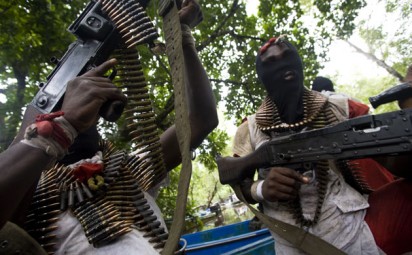 This was as Defence and Police Officers' Wives Association, DEPOWA, empowered widows and trained over 200 women and youth in skills acquisition in Ekiti State to combat unemployment and make them economically independent.
Distributing the materials at the DEPOWA Women/Youth Empowerment Programme graduation ceremony in Ode Ekiti, headquarters of Gbonyin Local Government of Ekiti State at the weekend, Mrs. Olonisakin, said the programme financed by the Defence headquarters, was initiated to fight poverty in the state.
Speaking at the event, Olonisakin said the essence of the programme, is to ensure that Nigerian youth are exposed to new innovation in vogue for  economic relevance and to free them from all forms of distractions that can lead them into crime.
The Defence Chief, who was represented by the Deputy Director of Education, Defence Headquarters, Brig. Gen. Lawal Zakari, said: "Youths are the pivot of the economy and they must be made to be useful members of the society.
"When you are empowered as a youth, you won't indulge in crime. You won't join criminal gangs who will constitute a menace to the nation, and that is the essence of this programme.
"In any society, even in the advanced economy, the needy are being helped. So, we viewed this programme, particularly training for our youth as a path to economic freedom and this is essential in view of what is happening in our nation now.
"With this training and equipment provided, you will be economically independent and have the potency to be able to contribute to the economy.
"Government alone can't fight unemployment but with the cooperation of all stakeholders, Nigeria will be free of this burden.
In her remarks, Mrs. Olonisakin advised government, at all levels, to expose the youth to skills acquisition and empowerment that can make them relevant and contribute to economic development of their nation.
"This training is meant to pull you out of unemployment market, make you economically self-reliant and eventually employers of  labour", she said.