By Donu Kogbara
I AM very unhappy about the Buhari administration's many shortcomings and missteps. The absence of inspirational and even-handed leadership is distressing for anyone who values high standards; and if, in addition to valuing high standards, you also happen to have voted for Buhari, as I did, you will definitely be more disappointed than those who never believed in him in the first place.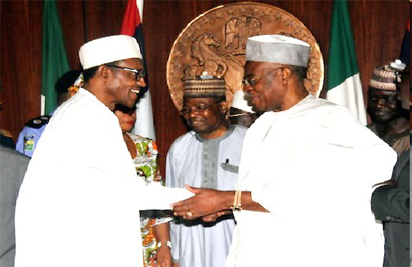 I can fill countless pages of this newspaper with bitter complaints about the mishandling of several key challenges such as the Fulani Herdsmen and Indigenous People Of Biafra, IPOB, crises. And I certainly will, in the coming months, robustly express my disapproval whenever this government messes up.
The now retired Major-General Buhari first became Head of State (December 1983 to August 1985) when he was still a serving army officer.
This initial stint in the hot seat lasted less than two years; and his desperation to regain the glittering crown he had lost (prematurely, as far as he and his fans were concerned), led him to present himself as a civilian presidential candidate in 2002 (failed), 2007 (failed), 2011 (failed) and 2015 (success at last!).
One would have thought that a man who struggled so hard to persuade the electorate to give him a second shot at leading a country as complex, vast and influential as Nigeria – the Giant of Africa and the Black Diaspora! – would have learned a lot from his first tenure and rigorously prepared himself (during his years in the political wilderness) to be an above-average returnee President.
I expected his closest advisers to be impressive. I expected him to dynamically hit the ground running from Day One. I expected him to be super-strict but scrupulously fair…and to sort out the mess that Nigeria had become.
I expected him to start achieving big wins immediately, especially on the security front. I thought that by now – Year Three – he'd have done so well that those who didn't choose him in 2015 would be planning to vote for him in 2019.
But, sadly, Buhari's performance has been lacklustre at best and often so downright disastrous that normally restrained establishmentarians like former Chief of Army Staff and former Minister of Defence, Lt. Gen (retired) T.Y. Danjuma, have lashed out at the authorities, using surprisingly radical language.
Speaking recently in Jalingo, the capital of his North-Central home state, Taraba, at the maiden convocation ceremony of Taraba State University (to which he had donated N100 million), Danjuma (a Christian) angrily accused the military of shattering the peace in Taraba, of complicity in the killing of local farmers by Muslim herdsmen…and of causing mayhem all over Nigeria.
"There is," according to Danjuma, "an attempt at ethnic cleansing…[and] we must resist it. We must stop it. Every one of us must rise up. Our Armed Forces are not neutral. They collude with armed bandits to kill Nigerians. The Armed Forces guide their movements. They cover them. If you are depending on the Armed Forces to stop the killings, you will all die one by one…
"…This ethnic cleansing must stop in Taraba State and other states of Nigeria, otherwise Somalia will be a child's play. I ask every one of you to be alert and defend your country, defend your territory and defend your state. Defend yourselves because you have no other place to go…God bless our country!"
Some local government chairmen in Taraba have firmly backed up Danjuma's claims and expressed alarm about the army's alleged brutality, extortion and collusion (with herdsmen who allegedly want to steal farmlands from indigenes).
Meanwhile, some gun-toting so-called herdsmen are strongly suspected of being Boko Haram members who have been released by the army.
Meanwhile, other Nigerian dignitaries – famous constitutional lawyer and former Minister of Education, Professor Ben Nwabueze, for example – are echoing Danjuma's concerns and warning that Nigeria is on the verge of collapse.
Nwabueze says that the herdsmen have two main objectives: "to re-establish political hegemony and religious supremacy based on the religion of Islam."
Nwabueze has also pointed out that "The Google Failed State Index ranked Nigeria the 15th worst failed state in the world."
President Buhari is being blamed for not responding to the dangerous, destructive ethno-religious tension and the multiple murders that are associated with it.
Meanwhile, Buhari's kitchen cabinet is always attracting criticisms, even from members of the President's own party, the All Progressives Congress, APC.
And, sure, his extremely capable and charismatic Vice-President, Professor Yemi Osinbajo impresses almost everyone who meets him, abroad as well as at home; but Osinbajo does not appear to be playing a sufficiently significant role.
If I were in Buhari's shoes and was lucky enough to have such a high-calibre deputy, I'd carry him on my head and turn him into a FULL governance partner.
I don't know Osinbajo –  I've only met him once briefly; and I'm not aware that he is dissatisfied with the status quo. But I think that he is Buhari's greatest asset and should be encouraged to help his Boss get out of this unholy mess!
Having said all of the above, people are sometimes very unfair to the President. For example, he was recently condemned for attending the wedding of Fatima, daughter of Abdullahi Ganduje, governor of Kano State, and Idris, son of Abiola Ajimobi, Oyo State governor.
Pastors and Imams alike snarkily wondered why Buhari showed up to the extravagant celebration.
But I don't see what's wrong with ensuring that you are present when the children of friends and important work associates tie the knot.
If the parents of the bride and groom decided to spend a fortune on the ceremony, how is that Buhari's business or problem or error of judgement?!
Responses to: [email protected] or to 0802 747 6458 OR 0811 675 9752 (texts only). PLEASE KINDLY NOTE THAT UNLESS YOU REQUEST ANONYMITY, YOUR COMMENTS MAY BE PUBLISHED, WITH YOUR NAMES AND CONTACT DETAILS ATTACHED.