By Vincent Ujumadu, Awka
GOVERNOR Willie Obiano of Anambra State and his deputy, Dr. Nkem Okeke Saturday took their oaths of office at an impressive ceremony at the Alex Ekwueme Square in Awka, with the governor saying the late Ikemba Nnewi, Dim Chukwuemeka Odumegwu Ojukwu would be proud of Anambra people for overwhelmingly voting for All Progressives Grand Alliance, APGA, in the November 18, 2017 governorship poll.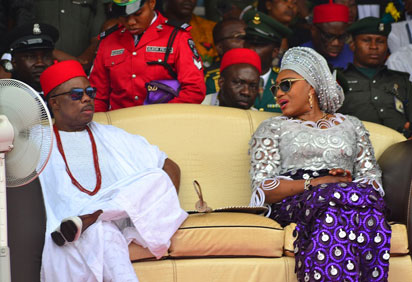 The ceremony was witnessed by four other governors namely, David Umahi of Ebonyi, Ifeanyi Okowa of Delta, Ifeanyi Ugwuanyi of Enugu and Ayo Fayose of Ekiti, as well as the deputy governor of Taraba State, Alhaji Haruna Umaru.
Also present were the Ooni of Ife,  Deji of Akure, Obi of Onitsha and hundreds of traditional rulers from within and outside Anambra State.
Amidst gun salutes, Obiano said: "I have no doubt that when Dim Chukwuemeka Odumegwu Ojukwu looks down from heaven, he would be proud of what you did on November 18, 2017.
"He would be happy that when the people he anointed to preserve his legacy jumped ship, you fought hard enough to keep the political vessel he bequeathed us afloat on the turbulent sea of Nigerian politics because this is our own.
"If our forebears; the Great Zik of Africa, Sir Louis Odumegwu Ojukwu, Mokwugo Okoye, Dr Akweke Nwafor Orizu, Igwe Osita Agwuna, Professor Kenneth Onwuka Dike, Professor Chinua Achebe, Professor Chike Obi, Mrs Janet Muokelu, and other illustrious personages laid the foundation for today's Nigeria, our generation has no choice than to make Anambra State the quintessence of excellence. This is one mission that must not fail.
"I therefore stand before you today as a product of love; your love; your love for Anambra State; your love for good governance.
"I am the proof that we have attained great political maturity in this state.
"I am the evidence that when the occasion demands, we can rise together as one and that when we stand together as one; we can bend the tide of destiny in our favour.
"This is the moment you have wished for, hoped for and prayed for and I am here to serve.
"Never before had our beloved state witnessed the electoral history that you created on November 18, 2017. And today, I stand on the crest of your love to declare a new season of excellence for our beloved Anambra State.
"Our dear state is on a journey of self-awakening and discovery. We are reaching for the stars with the moon beneath our feet. And I am most grateful to you for choosing me and Nkem Okeke to lead you on this journey.
"Therefore, my gratitude goes to the Almighty God for saying yes to my dream of a second term in office, and I must thank you for your prayers and your votes that made me your governor.
"I bow in humility, to the leadership and members of our great party, APGA, for fighting a good and decent fight to ensure our victory at the polls.
"Let me assure you here that the democratic garden you watered with your votes on November 18, 2017 will bloom with the flowers of progress.
"It will flourish to our joy and happiness and to the admiration of all Nigerians. We shall work together, dream together and create new narratives with happy endings for ourselves.
"Our dream is within a touching distance under my watch and we can see its gleaming surface on the horizon."
Going down memory lane, Obiano recalled the promise he made when he was sworn in four years ago saying, "I am happy that we have taken back our cities and communities from brutal armed robbers and kidnappers who once made our beloved state a dread to decent people and a taboo to investors.
"We have turned the table on our collective enemies and turned our adversities into advantages. We are Nigeria's safest state today. We have elevated governance from building roads and bridges to building lives.
"We are the new agricultural model for Nigeria. Our cities and communities are aesthetic wonders with dazzling lights at night.
"We have re-created our social environment and restored nightlife to our cities. We suspended taxes for low income earners and put more money in the hands of breadwinners.
"We have attracted huge investments and touched every community with special projects, chosen by each community. We grew our GDP by one trillion naira in the middle of recession and increased our Internally Generated Revenue, IGR, while most taxes remain suspended.
"We inherited a total of 101 roads with a cumulative length of 641.924KM when we assumed office four years ago and in spite of the poor state of the economy, we successfully completed 55 of them with a cumulative length of 422.050KM, leaving us with a balance of 46 roads with a length of 219.074KM.
According to the governor, the next four years would witness a bold effort to lend roots to the great progress made in the past four years, promising that his administration would tighten the screws on the security architecture to ensure that Anambra remained Nigeria's safest state.
The roll call: Professor Uche Azikiwe, Senator Ndii Obi, Senator Andy Uba, Senator Joy Emodi, Senator Victor Umeh, Chief Emeka Anyaoku, Senator Chris Ngige, Senator Uche Ekwunife, Senator Stella Oduah, Dr. Chinwoke Mbadinuju, Dr. Chukwuemeka Ezeife, Dr. Victor Oye, Professor Charles Soludo, Mr. Godwin Ezeemo, Chief Chris Uba, among others.