Akure – Federal Road Safety Corps (FRSC) Ondo State Command has advised passengers to caution drivers against reckless driving during and after Easter festival.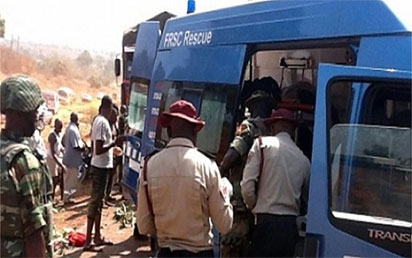 Mr Olusegun Ogungbemide, the Deputy Sector Commander and Head of Operations, gave the advice in an interview on Saturday in Akure.
Ogungbemide said it had become imperative for FRSC to advise the public on the necessity of cautioning drivers against reckless driving in view of the spate of carnage on the road.
He added that the command admonished and encouraged passengers not to keep quiet in the face of reckless driving.
The sector commander said "it is not just about drivers alone, members of public also have responsibilities as passengers in any vehicle.
"Passengers should caution drivers tactfully anytime they noticed recklessness without distracting the drivers. It is the passenger's responsibility to advise driver to keep to safety rules.
"Data available to us has confirmed that passengers are always the victims anytime there is a crash, while drivers most of the time escape unhurt.
"That is why passengers should always be proactive anytime they are in transit so as not to allow their life to be wasted by reckless drivers, especially during festivities."
Ogungbemide said the command had deployed men of the corps to critical areas of the state, especially highways, to ensure smooth Easter celebration.
According to him, the command has stationed emergency ambulances in most critical areas such as Akure, Owo and Ikare Akoko axis in case of crashes.
He added that "our men are working day and night to make sure that crashes do not happen and eventually if it happened, our men are expected to be there within 15 minutes to rescue victims."
He also said the command had removed vehicles parked on highways, asking that "if
there is anyone we have not removed, we are pleading with the public to reach out to us immediately."
He announced that the command was carrying out "Operation No Mercy" to enforce traffic rules and regulations across the state.
He said "`we have sensitised the public but sensitisation without enforcement is like entertainment. That is why we take it as responsibility that anybody that is caught will face the wrath of the law." (NAN)