By Etop Ekanem
All Progressives Congress (APC) Chieftain in Adamawa State, Alhaji Musa Halilu Ahmed, will tomorrow, Saturday, March 31, 2018 be conferred as Dujuma Adamawa, by His Royal Highness, Lamido Adamawa, Alhaji Muhammadu BarindoAliyuMusdafa PhD OFR.
Alhaji Musa, widely known as Musa Yola is the son of late Alhaji Halilu Ahmadu Chiroma, who became the first Dujima of Adamawa State, a prominent traditional title from the old Borno Empire.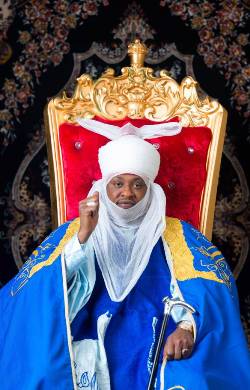 Born on May 13, 1976 in Gembu (Mambila Plateau) of the then Gongola State, Alhaji Musa completed his secondary school education from Yelwa Government Secondary School, Yola in 1994, and then proceeded to Kaduna Polytechnic where he obtained a Diploma in management studies between 1999 and 2001.
In 2005, he successfully completed his HND programme in same institution and took part in the NYSC in 2006. He didn't stop at that, Alhaji Musa, during his NYSC year, earned a Diploma in Information Communication Technology at the National Institute of Technology, and has since attended several management courses, conferences, and seminars both locally and internationally.
Alhaji Musa is a mega-successful entrepreneur who ventured into business right from a very tender age;He serves as Chairman and sits on the Board of numerous companies with interests in Construction, Real estate, Energy, Agriculture, Technology, Supply chain Management and Venture capital.
His vast experience in originating and executing complex international business transactions has seen him transverse almost all the continents in the world. Alhaji Musa has served in different active capacities, committees and subcommittees in major political parties over the last two decades; they include the All Nigerians Peoples Party (ANPP), Congress for Progressive Change (CPC), and the All Progressives Congress (APC).
Alhaji Musa plays active role in politics by taking part in the 2015 election where he contested for the post of National Delegate and came out victorious, a convention that saw the emergence of President Muhammadu Buhari as the then Presidential candidate of the ruling APC. Despite contributing heavily to the victory of the APC at the polls, Musa chose to return to his thriving business empire in the private sector and deeds which has supported thousands of youth and families across the country
Alhaji Musa, the newly turbaned Dujima Adamawa, is also a brother to Wife of the President, Mrs. Aisha Buhari, and he is happily married to Mrs Amina Abubakar the granddaughter of the late ArdoMalabuHammawa. Both have been married for over a decade and their union is blessed with four lovely children.
The turbaning ceremony, which is programmed to hold at the LamidoAdamwa Palace in Yola, Adamawa State, will be attended by traditional rulers from across the country, leaders across the federation, amongst many other dignitaries.