By Prince Okafor
DEREGULATION has been identified as a major single factor responsible for the development of Nigeria's Liquefied Petroleum Gas sector.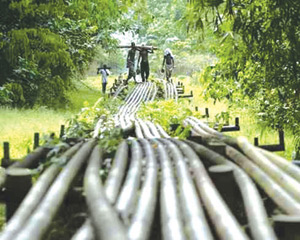 Mr. Nuhu Yakubu, the President of the Nigeria Liquefied Petroleum Gas Association (NLPGA), disclosed in an interview with Vanguard that: ''the best and most important policy of government that was introduced to promote investment in Nigeria's LPG sector is the introduction of full deregulation.
''This singular policy of Government then encouraged the major producers of LPG like the Nigeria LNG (NLNG) to intervene in the supply market, to sustain the envisioned growth, towards realising the market full potentials. Since around 2007 till now, LPG demand/supply market in Nigeria has grown from a mere 70,000MT/annum market to over 600,000MT/Annum, pulling along with it, massive investments in LPG infrastructure along the value chain.
''So, in the last 10 -12 year, along with growth in the market has been development of over five privately financed, owned and operated LPG coastal terminals, in Lagos, Calabar and Port Harcourt, with total storage in excess of 35,000MT, along with LPG ship loading/offloading jetties, LPG cylinder bottling plants, LPG mini plants, LPG road delivery tankers which have particularly seen a growth from less than 100 trucks 12 years ago to over 1,050 as at last count in 2017.
''The above does not include the effort made by NNPC, with the revival of the nine LPG Butanization plants strategically located in major cities and towns in across Nigeria's geo-political regions, adding 9,000MT to its already existing 4,500MT storage terminal in Apapa-Lagos, and returning them to profitable operations.
''So in all, Nigeria's coastal and inland LPG terminals can boast of aggregate storage capacity over 50,000MT as at today, by reason of the positive multiplier effect of a single, yet very important government policy.
And effort is on for new policy initiatives that have already been approved by the federal government to kick in, and further deepen investment in LPG sector.''