By Tare Youdeowei
IN its bid to adopt next generation technologies like AI, machine learning, big data and more in business and management practices while expanding collaborative efforts with other organizations, LG's has launched  its CLOi Robot at CES 2018.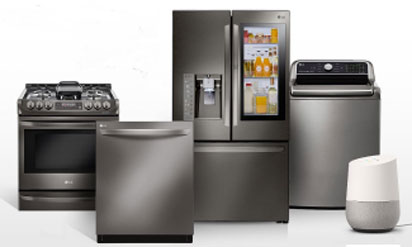 The CLOi Robot made its debut appearance at the recently concluded LG MEA Innofest 2018, just as LG has announced the creation of ThinQ brand to identify all of its 2018 home appliances, consumer electronics and services that utilize artificial intelligence.
Speaking on the smart products, Mr. Kevin Cha, President LG Electronics Middle East & Africa enthused; "LG ThinQ products and services will all have the ability to employ deep learning and communicate with one another, utilizing a variety of AI technologies from other partners as well as LG's own AI technology, DeepThinQ.
"The advancements in AI and robotics are expected to transform lifestyles and industries around the world, ultimately improving humankind's experiences from reducing repetitive tasks at home or work to even eliminating age-old malignant practices.
This is why significant investments will be made in this area. We are confident that as the years progress, consumers in the region will see significant value brought to their lives by our AI enabled electronics and home appliances making it extremely fruitful for both them as well as our retail and distribution partners." Cha said.
Stating that LG is committed to enhancing its portfolio of products with AI, Mr. Derek Sim, Marketing Director, LG Electronics, Middle East & Africa said;  "DeepThinQ is already changing the way certain products targeting the commercial and consumer sectors are designed.