By Peter Egwuatu
Investors in the nation's stock market have lost over N252 billion of their investment in two days trading on the Nigerian Stock Exchange, NSE after it recorded a historic market capitalisation( market value)  high of N16.154 trillion last week.
This confirms analysts' expectations that profit taking will characterise the market this week, even as they posited that investors would take position on stocks that are trading at relatively low price.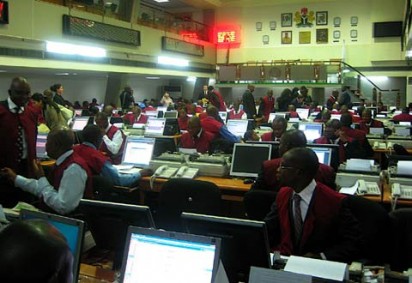 Specifically, the total stock market value yesterday dropped to N15.902 trillion from N16.089 trillion last week Friday, indicating a decline by N252 billion or 1.6 per cent .
In the same manner, another stock market indicator, NSE All Share Index, dropped by 702.98 points or 1.6 per cent in the two day trading to close at 44.389.85 points from 45,092.83 points last week Friday.
Analysis of the trading yesterday showed that the investors lost N187 billion as total market value declined to N15.902 trillion from 16.089 trillion it closed on Monday.
Similarly, the All Share Index declined by 522.68 points to close at 44,389.85 points from 44.912.53 points it closed on Monday.
The Exchange recorded 43 losers against 14 gainers. The large capitalised stocks such as Dangote Cement, GTBank and Zenith Bank led the bottom losers table yesterday. The depreciation recorded in the share prices of GT Bank, FBN Holdings, Dangote Cement, Zenith Bank and Transcorp were mainly responsible for the loss recorded in the Index
Consequently, the NSE Industrial and NSE Banking indexes fell by 0.72% and 2.57% respectively. On a year-to-date basis, the All Share Index fell to 16.07%.
Reacting to market development, yesterday analysts at a Lagos based investment firm, FSDH Group said: There was sell pressure in the equity market today (yesterday) a combination of profit taking and price corrections predominantly in the banking sector stocks.  The downward trend may likely continue till midweek."
On activity chart, the three most actively traded stocks were Skye Bank (150.37million), FBNH (104.16million) and Wema Bank (64.08million).