Former Super Eagles midfielder Wilson Oruma is recuperating in a Lagos hospital following a relapse of his mental breakdown.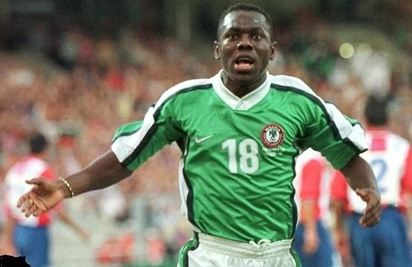 Oruma has been in the news recently following reports that he is suffering a relapse of mental breakdown which he first suffered after he was duped N1.2 billion by a clergyman and fake businessman in 2012.
New photos emerged of the former midfielder not looking his best self but his younger brother Dominic Oruma has revealed that he is in a Lagos hospital.
"Wilson is doing very fine he is in a hospital in Lagos," Dominic said on sports show on Top Radio.
"Doctors think he won't spend a long time in the hospital, he is in great spirit."
Following reports of Oruma's ordeal, there have been calls for his former colleagues to donate money for him but his brother insists that the family is not in any financial distress and not asking for any help.
"We (family) swing into action and everything is being taken care of," Dominic added.
He further called on the public to ignore anybody calling for donations for Oruma.
"The family is not asking for any financial assistance," Dominic who played for Golden Eaglets and Flying Eagles said.
"We want to let the public know, we appreciate any concern but we don't want any financial help."
The Nigeria Football Federation (NFF) have also waded in and visited the former Super Eagles star at the hospital on Sunday, January 14.
According to Enakhena, the NFF during their visit to Oruma, promised to bring the former midfielder back into the football family.
"When Oruma heard this, he was very happy," Enakhena said on his radio show.
Oruma had a 17-year career playing for the likes of Lens, Samsunspor, Sochaux and was also a regular for the Super Eagles.
He was one of the breakout stars of the Golden Eaglets that won the 1993 U-17 FIFA World Cup.
Three years later, he was part of the U-23 team that made history by winning the gold medal at the football event of Atlanta 96 Summer Olympic Games.