ASTROLOGICAL COUNSELLING
AQUARIUS; Make sure your plans for both immediate and far future are legal friendly. This is day of success you will need to savour with your partners/spouse.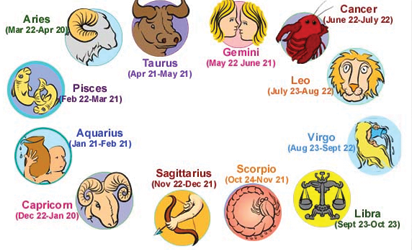 PISCES; Even if you think your health is ok you better make sure you confirm your fitness from your doctor before giving in to strenuous activities. Success at work indicated for those of you who are truly healthy. Be practical please.
ARIES; It will not be a bad idea trying to consolidate on progress made recently. And the more co-operative you are today the better it will be for you..
TAURUS; You will be in good position to take good advantage within your working arena.. Don't wait till tomorrow before you make important future plans.
GEMINI; Tomorrow may bring more challenges than anticipated that is why you will need to prosecute your plans now. Lovers are fairly favoured.
CANCER; Those of you who are moderate and practical with their financial plans are in for a good day. Live up to expectation within your family circle.
LEO; Success is within your reach but you must do away with mental arrogance and take good and practical advice from the professionals. Work harder.
VIRGO; Your being enterprising will go a long way to further enhance your prospects and if financial advancement is your priority you will fare better. Be more loving.
LIBRA; Prepare to take the lead and exhibit your special talent. Advice from younger people may look good but not practical enough thus if you must take advice today take it from matured personality who may appear authoritative.
SCORPIO; Element of luck will work in your favour, however that is not to say you can not back your reasonable plans with practical action. Keep your secrets.
SAGITTARIUS; You will have your ways; much will depend on how ambitious you are, the bigger your aspiration the better. Take your tried and trusted friends seriously.
CAPRICORN; Here is an ambitious day for many of you and with moderation things will go according to your plans. Financial success is actually close to you than you think.
Dear Joshua,
I want you to analyse my horoscope fully. I was born on July 8, 1969. I am a male graduate of Geology gainfully employed.
Francis, Asaba.
Dear Francis,
To analyse any horoscope fully I will need three to four pages of this highly respected Newspaper; I believe you understand what I mean. But not worry what you will get here-under will prove helpful.
YOUR HOROSCOPE DATA/PLANETARY PLACEMENT
DATE OF BIRTH = WDNESDAY JULY 9, 1969
SUN SIGN = CANCER ;SUN IN 16TH DEGREE OF CANCER
MOON SIGN = TAURUS ;MOON IN 8TH DEGREE OF TAURUS
MERCURY IN ZERO DEGREE OF CANCER
VENUS IN 1ST DEGREE OF GEMINI
MARS IN 1ST DEGREE OF SAGITTARIUS
JUPITER IN 29TH DEGREE OF VIRGO
SATURN IN 7TH DEGREE OF TAURUS
URANUS IN ZERO DEGREE OF LIBRA
NEPTUNE IN 26TH DEGREE OF SCORPIO
PLUTO IN 22ND DEGREE OF VIRGO
NORTH NODE IN 23RD DEGREE OF PISCES
SOUTH NODE IN 23RD DEGREE OF VIRGO
NUMBERS OF PLANET HOSTED BY GROUP OF STAR SIGNS (ACCORDING TO QUALITY & ELEMENT) ARE;
CARDINAL = 3, FIXED = 3, MUTABLE = 4,
FIRE = 1, EARTH = 4, AIR = 2 WATER = 3.
PUSH-FULL INFLUENCE = 30%
NON-PUSHFUL INFLUENCE = 70%
FINAL DISPOSITOR (PLANET AT HOME) = NONE
ANALYSIS OF THE HOROSCOPE DATA/PLANETARY PLACEMENT
As there was no Planet at home when you were born, too many ideas will constantly struggle for supremacy in your mind, especially whenever you are to take important decision of finality nature thus, confusion can creep in. But thank goodness for the quality of your mind that do not allow day-dreaming as indicated by preponderance of Planets in mutable (qualitative) and earth (elemental) Star Signs; this simply means you can be adaptable but must not give away the practical approach in you.
Astrologically, Cancer is a calm, cool-headed and kind hearted Star Sign with greatest regard for the family tree. And with not more than 30 percentage of push-full influence in your chart, you are not the type who will go on offensive (or adopt aggressive) approach to achieve your aims and objectives. As the Moon (the indicator of sub consciousness/emotion) and Saturn the Planet of Career/Ambition conjoined when you were born and there was direct 90 degree angle (which is an Astrological aspect and/or relationship of compelling competition/struggles) between your natal Mercury (an indicator of mental focus lens) and Uranus which stands for uncompromising freedom you can not be taken for granted, but then you will rather adopt a democratic approach than take to forceful way of doing things-known as Garrison Commander's way of life.
Good relationship between Mars (the planet of initiative) and Uranus of unusual and uncommon ideas during your birth hour are indications of LEADERSHIP QUALITY and ability to make the right moves at the right time. Thus combinations of these and what I gave in above two paragraphs are saying that yours would be a greatly balanced personality, especially if you always rely on logic rather than emotion when taken important decision. Placement of your natal Sun (an indicator of basic self-hood/conscious self) and Moon (emotional side of everybody/sub conscious self) in Cancer and Taurus respectively are pointers to your being mainly a Cancerian and partly a Taurean. And that is to say basic characteristics of Cancer and Taurus are highly pronounced in your inner-self.
Send your date and place of birth to the Astrological
Counselling, P.M.B 1007, Apapa, Lagos
Subscribe for latest Videos