The Minister of Agriculture and Rural Development, Chief Audu Ogbeh says the Federal Government will re-design the Growth Enhancement Scheme (GES) programme to boost farmers' access to farming inputs across Nigeria.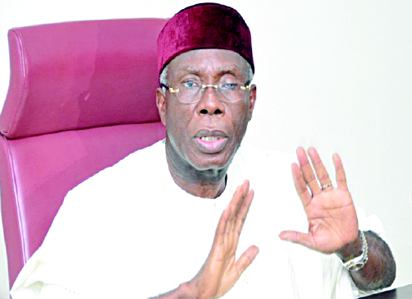 He spoke to newsmen shortly after inspecting facilities at the Institute for Agricultural Research (IAR) in Zaria, Kaduna State on Saturday.
The minister was in Zaria for a two-day inspection tour to agricultural institutes comprising IAR and National Agricultural Extension Research and Liaisons Services (NAERLS).
Other research institutes to be visited by the minister are the National Animal Production and Research Institute (NAPRI), as well as Division of Agricultural Colleges (DAC).
"We are going to redesign the GES programme so that the principles remain but the practice is all tide.''
He observed that the programme was capital-intensive, adding that it was 50 per cent subsidised by the states and Federal Governments.
He, however, attributed the problems encountered in GES to withdrawal of state governments from the programme.
"The state governments withdrew their subsidy, so it is up to the Federal Government now to provide 50 per cent subsidy.
"When we came in, we owed the GES suppliers N67 billion, which was twice my entire budget. I couldn't pay, so, I had to seek Mr President's help.
"He actually helped with N20 billion and we paid them, we are still waiting for more help to be able to pay the balance.
"If you are indebted, don't go and accumulate more debt because some of those we owed have gone into a lot of trouble with their banks,'' he said.
He assured that the Federal Government was doing everything possible to clear the whole debt.
"However, don't forget, the economy went into recession and our finances were very low but we will not only revive it but restructure it.''
On general assessment of his tour to the research institutes, the ministers expressed satisfaction and saluted their courage and efforts toward making Nigeria proud in the area of agriculture.
While charging the institutes to brace up to the present day challenges, Ogbeh said the Federal Government would not relent in acknowledging their contributions and would continue to support them.
The ministers also appealed to Nigerians to rally round the present administration of President Muhammadu Buhari to enable it deliver its lofty programmes for the country successfully. (NAN)