By Onome Amawhe
Since it was established in 1960, Australia and Nigeria continues to enjoy  a very beneficial diplomatic ties. Both countries work jointly in the Commonwealth and the United Nations to actively encourage peace,prosperity and democracy on the United Nations Security Council.  Australia and Nigeria also partners on counter terrorism and combatting violent extremism. The Australian ambassador to Nigeria, Paul Lehmann is certain that the relationship between both countries will continue just as he describes the diplomatic alliance with Nigeria as being Five Star. He also thinks there's room for improvement with new directions for advancement of the bilateral cooperation. Paul Lehmann was named Australian High Commissioner to Nigeria in November 2015, with a non-resident accreditation to Benin, Cameroon, Gabon, Niger and The Gambia. Prior to that, he had been a senior career officer with the Department of Foreign Affairs and Trade, Assistant Secretary of the Consular Operations Branch and Minister Counselor (Development) at the Australian Embassy in Kabul.He shares his thoughts on the current state of the bilateral relationship.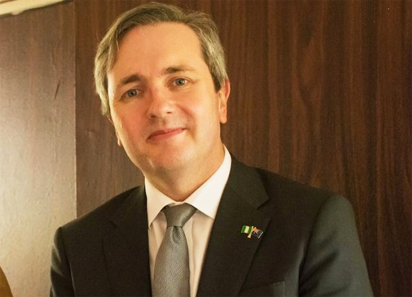 What does Nigeria and Australia have in common?
We have many things in common. We can start with something basic like a shared language; which is English. We also have shared institutions which derive in large part from our shared colonial heritage and aspirations for our people when it comes to peace and prosperity. Nigerians and Australians love to travel overseas and if you go to many places overseas the two types of foreigners you'll likely find are Australians and Nigerians. Australians are famous for spending time in the U.K as they grow up and Nigerians like to do the same thing.  More importantly, we share that spirit of wanting to get out and explore.
What is the volume of trade between the two countries?
It fluctuates from year to year. Historically, Nigeria has always been one of our largest trading partners on the continent.  And the trade balance has been in Nigeria's favor, by a long way, with oil imports from Nigeria and the rest of the Gulf of Guinea. So far, our major export to Nigeria at the moment is wheat.  In the last year or so, we haven't imported any crude oil from Nigeria; but Nigeria has imported a little bit more from us.
How much interestdoes Australian companies have in Nigeria?
I think Australian investors are very used to looking far and wide for opportunities. What we are starting to see now is an interest from Australian mining companies looking at how they can work with Nigerian operators to bring value. If I were to pick one particular sector that has potential, it would be solid minerals and extraction where both countries could do much more work. As you might know, Australia has a strong tradition in the development of solid minerals and our expertise and experience could be used here in Nigeria. And even in my short time here, I've seen quite a degree of progress in that area with a number of active Australian firms in that space and across the West African region.
There's what is known as the Australia–Nigeria Trade Investment Council. What happened to it?
That was announced a few years ago and we are looking at ways in which we can really reinvigorate that body. And it may require us to look at how we can position that for the future given some of the strategic changes that I've identified particularly with the emergence of potential investment in the mineral sector. We are also looking at what might be the most appropriate vehicle for that sort of dialogue but I'm pleased to say that our dialogue and interaction remain strong even outside of the framework.
With the current level of the economic relations between both countries, what more can be done to further  the cooperation?
I'd like to see more interaction and exchange that would help Nigeria develop its own agricultural production of commodities such as wheat.  So, it's not just all about the export of commodities such as wheat, but it's also about where we can look for opportunities to share and exchange knowledge and expertise  to broaden out and deepen our trade investments and links. Already, both countries are commodities exporters so that's always going to be important but there's an enormous talent and energy here and Australia does have a lot to offer in terms of expertise and knowledge.
 How strong is the partnership between both countries in the area of education?
There's a great deal of cooperation which is happening now through the growth of the number of Nigerian students who are studying in Australian universities. Over the last three or four years, there's been a quadrupling of that so we are now looking at 2,000 Nigerian students who are studying in Australia. That number is growing every year. However, Australia wasn't such a big market for Nigerian students but over the last few decades, Australia has emerged as the country with the third highest number of international students of any country in the world because we welcome the third largest group of international students making us a dominant player in that particular market.  We're looking to grow that and encourage more Nigerians students to experience the high quality of education that they can acquire in Australia. There are many links obviously, between educational institutions in Australia and Nigeria. We also have an annual scholarships program- Australia Awards-through which we provide bursaries for Nigerian students who are looking to undergo masters' courses in particular priority areas that would give them the skills to then come back to Nigeria and contribute to developments here.
 Security, what is the extent of cooperation here?
Australia is very much committed to cooperating with partners like Nigeria to eliminate the scourge of violent insurgencies across the globe. By many measures, Australia is the largest NATO contributor to military efforts to curb insurgency in Syria and Iraq. And we are doing that because we want to eliminate that scourge there but also to any further spread in other parts of the world. So we stand very much with Nigeria and other partner countries in efforts to eliminate insurgencies because it's a multi -national international problem that needs a multi-national international response.
What plan is  the Australian government putting in place to increase the number of  Nigerian tourists visiting Australia?
The marketing of Australia is very broad and is often web-based. Increasingly using those sorts of channels around social media, limits budgets so you don't get to see large scale promotional campaigns here because they are often targeted at the markets that are closer to home. For example in China and parts of Asia where the bulk of tourist growth is coming. But obviously, part of my job as ambassador is to sell Australia as a destination whether itbe for tourism, business, and education, cultural exchange or people to people links. It's all about relationships and deepening the connections that we have between Australia and the world.
What is Nigeria looking like in your view in recent times? What has taken a favorable turn?
Most noticeably for me is the incredible wealth this country possesses in its human capital. The talent and energy of Nigerians is really something you have to experience first-hand to really appreciate and I've being fortunate to do that since been here. Also, I think that whatever difficulties the country encounters whether they are on the security front or having to do with the economic situation, there's always a great spirit of hope and resilience and energy in this country which has sustained it through difficult times in the past and I'm sure it'll continue to be so in the future.
And what has taken a turn for the worse in your view?
Well, I think it's pretty hard to ignore that the country is in recession. And it's a pressing issue for the government, people, and business to get the economy back on its feet. I think now that there's been some advances with the security in North-East , although there are plenty of security challenges in the Niger-Delta , what  the government is doing  to correct that economic trajectory is certainly timely and would be beneficial  once that situation turns around.  Australia is looking to continue on its path in developing our relationships across the continent.