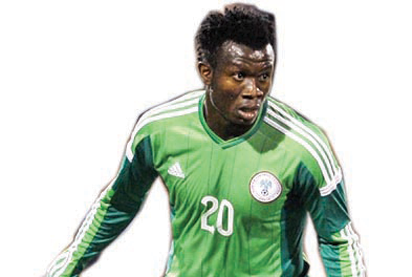 Igiebor
Out-of-favour Super Eagles midfielder Nosa Igiebor has criticised the team's Technical Adviser, Gernot Rohr over comments the player called untrue and also claims he has been ignored for demanding game time.
Igiebor fell out with the German tactician in the early days of the 2018 FIFA World Cup qualifiers after the player told Brila FM, that he was unfairly confined to the bench and 'overlooked for less quality players.'
In a recent interview with the same radio station, Igiebor revealed the finer details of the innocuous conversation with Rohr that may have tipped his International career over the edge.
The former Real Betis man said he approached the German tactician to inquire why he's not getting game time and what he needed to work on.
"This is the standard in Europe when you're not playing at your club. You approach the Gaffer, ask for game time or at least what you need to improve on."
"Our Coach is European so, I thought he could relate. It actually shows I'm interested in playing for the national team rather than just sit on the bench.
"His response to my request was that he needed players who played in the big leagues and had that European experience.
"But, I played in Spain for Betis; I've played in the Champions League and Europa League.
"Instead he took it further and went to the press to say some players were only interested in collecting match bonuses," the 27-year-old stressed.
Currently, the midfielder plays his club football with Vancouver Whitecaps in the MLS.