Professor Abubakar Sulaiman is a chieftain of the Peoples Democratic Party (PDP) and the immediate past Minister of National planning. A vocal member of the PDP Ex-Ministers' Forum, the Professor of Political Science is running for the Office of the National Publicity Secretary in the  December 9  delegate election of the party.
In this exclusive interview with Vanguard, Sulaiman spoke on a wide range of issues including micro zoning, PDP crisis in Kwara State and the misconceptions about Nigeria's former President, Dr. Goodluck Ebele Jonathan amongst sundry issues. Excerpts!
By Dirisu Yakubu
It's barely a few days to the PDP elective convention. What are your expectations?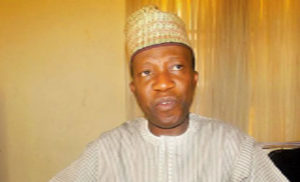 The convention which is going to be the major convention after our exit from power in 2015 is going to be a metamorphosis, a monumental stride and will show the direction we are going. It will signpost our dream and aspiration towards regaining power in 2019. This dream will get a boost in that convention. For me, what is important is the spirit with which all of us as members of the PDP are bond together.
It is the spirit of comradeship, the spirit of sportsmanship, the spirit of patriotism and the spirit of give and take. If we are able to develop these spirits as a build up to that convention, I want to believe that the path we are trying to find towards 2019 will be a reality. So, the convention is going to be a watershed that will determine a lot of things; where we are as a party, whether we've learned our lessons and the kind of expectations we want Nigerians to have in us as a party. The convention will epitomise all these.
What's your take on micro zoning? The National Publicity Secretary Office you are running for was micro zoned to Kogi State; yet, you are in the race.
This is democracy and democracy is about unlimited choice. It is about giving the people the opportunity to choose their leaders. In democracy, you don't put a ceiling to the people's expression. There is nothing in Nigeria's constitution or PDP constitution that makes micro zoning sacrosanct. It is a mere convenience and when it is done in a way that some people just believe because they were former governors, they can just share some positions to themselves; then we are not for it. Let me ask you a question.
On what basis are we zoning the Financial Secretary to Niger State? What was Niger State's role, percentage in the 2015 general election? We had just 18 per cent vote in the Presidential election from Niger State even though we had a sitting governor there and three Senators. Kogi that they are talking about, what was the performance?
Kwara without a PDP governor and with just one Senator and a Minister that just came on board had more than 30 per cent votes for President Goodluck Jonathan in the 2015 Presidential election which was more than the requirement. As at the time few people were doing the sharing, who did they invite from Kwara? Ask them, what did they give to Kwara State?
So, when micro zoning is not done on the basis of equity and justice, it cannot hold. In any case, PDP has gone beyond the issue of micro zoning or no zoning. What Nigerians want to see now are the pedigrees, capacity, track records, competence and integrity of the various aspirants. The people you are micro zoning the NPS to in Kogi, are they better than Sulaiman? Have they done what Sulaiman was able to do in the last 28 months? Do they have the kind of institutional memory that Sulaiman has?
Do they have the courage and passion of Sulaiman?   Imagine two ex-governors from Kogi State taking the NPS as important as it is, taking a person who has no partnership with the media, who has not been speaking up for the party, to vie for the spokesperson of the party. I have been speaking and defending the PDP since we lost power. So it is not about micro zoning but about pedigree, wherewithal and courage.
A former governor has supposedly anointed a candidate for the office of the NPS. Do you think you have what it takes to emerge victorious considering the variant of politics play in this clime?
The same governor who could not return himself? Yes, he was a former governor but he lost his re-election bid. So when someone who doesn't have electoral value, anoints another; does that makes sense? In any case, we have gone beyond that level as a party, where a former governor will just sit down and say this is what I want.
That is the kind of impunity we must say no to. Micro zoning comes only after a consensus, after constructive engagement and consultation. Till date, no one from the North Central has engaged me. I am a former Minister for God sake, I am a Professor of Political Science; so what are we saying? Power belongs to God and the people decide who their representatives should be. Let the delegates go to the polls and decide who they want as the National Publicity Secretary of the PDP. It is a very critical position and we can't toy with it. It should not be left at the mercy of one former governor.
Sir, having served as a Minister, one would have thought that governing Kwara will be your pre-occupation in 2019. So why the NPS of the PDP!
Very good question! You see, there is this belief in Nigeria that you can only make a name, make input in governance and play your role in nationhood at the level of being either a Minister or governor; that shouldn't be.