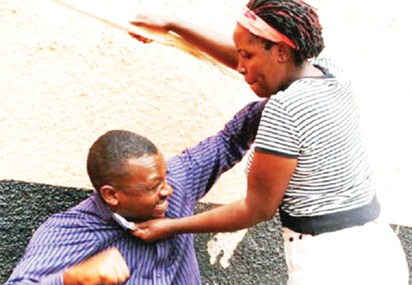 domestic violence
By Chris Onuoha
Violence against women and girls according to the United Nations is not confined to any particular political or economic system, but is prevalent in every society in the world. Domestic violence in general terms cuts across all genders both male and female and the crime also cuts across boundaries of wealth, race and culture.
In an attempt to address the problem of Violence against Women in particular, the United Nations declared November 25 every year as International Day for the Elimination of Violence against Women. Be that as it may, it now seems the baton of battering has changed from men to women using the current violence cases in homes involving 2 Nigerian women whose altercations led to extreme use of weapon that resulted in  death.
Yewande Oyediran, a lawyer, was sentenced to seven years in jail for killing her husband, Oyelowo Oyediran, at their residence in Ibadan, Oyo state. The convict was a counsel in the Oyo state Department of Public Prosecution at the time she stabbed her husband in the neck on February 2, 2016, resulting in his death. She was convicted of manslaughter.
In another love gone sour, Maryam Sanda reportedly stabbed her husband, Bilyamin Bello, to death while the latter was asleep. Sanda is the daughter of Maimuna Aliyu, the former Executive Director of Aso Savings and Loans Limited, while Bello was the son of Haliru Bello, former National Chairman of the Peoples Democratic Party (PDP).
From these two recent incidents, domestic violence involving women on the opposing side, now seems on the rise.  However, the continued prevalence of violence in homes demonstrates that this global pandemic of alarming proportions is yet to be tackled with all the necessary political commitment, actions from non-governmental bodies, and even family interventions.
 Efe Anaughe, president/CEO Warren Rose Foundation, motivational speaker,  and on-air personality in a chat with Woman's Own differs a bit as why women should not be termed more violent than men.
"Domestic violence has always been an issue of men against women because we live in a society where men are expected to be physically strong in fight than women.  It is culturally regarded as shameful to see a woman beat a man, for a man would never be bold to say, 'my wife is beating me'.  In African setting, men are known to keep their feelings in whatever they are going through.  They will be strong and silent about it. A lot of men today have not been free to express themselves when an issue is going on in their homes. Whereas women can shout it out, men will find it difficult to talk. But with the issues coming out, women are taking it a little bit far from normal.
 One case, too many
I wouldn't say that women are getting more violent in general terms because there are interests in such cases with the people involved and that's why it kept on like that. On a percentage level, you could say that for the women, it is on the higher percentage because male are stronger and females are physically weak. If you have noticed, on the two attacks, the men were taken unawares. The one in the case of Maryam Sanda, the man had slept. If he was fully conscious, it would not be possible for her to attack him. From what we read, she had made such attempts in the past. This particular time, he was off-guard. In most cases, there are usually distractions somewhere that allow women to succeed in such attempts. But men in actual sense are stronger than women. You could say right now, the percent is about 7 but the threats from men are still higher.
Men are still physically stronger and it must not be seen as if women are having upper hand in domestic violence.
 Men hide violence
Men who are troubled can keep silent but a woman can cry out and louder. A lot of men hide and cry and pretend that all is well when their women are violating their rights at home. They may not even tell their closest friend what they are going through. But it has been said that it is a womanly thing to cry. But of course, in the past, it is difficult to tell because our parents would say when you visit a home where a mother would drag a father or say he is not going anywhere,that is some sort of abuse. Women can be pushed to the wall. When a person is angry, he or she is blinded by rage. And when that occurs, they can go to any length. The bible says that anger rests in the bosom of a fool. That's why it is advisable that when a person is angry, the best option is to walk away.
 Speak out
The situation has actually been turned.  There has been a massive cover up from the men folk. They have been taught to hide their feelings and learn to manage them. For me, it is not macho to hide your feelings to the point that somebody has to kill you. You can see what happened to Bilyamin Bello. If he had spoken out or taken the right step, it wouldn't have been so. But often times, there is the pressure of image. Everybody wants to protect the image of a person. And of course, there's the cultural and religious aspect to it. When a man has divorced the first time, second time, and in the process, you reneged in the relationship. Other factors including the spiritual and moral can also be part of it. People want to be seen as perfect couples and in the process of keeping quiet, they become victims.
I think for now, men are beginning to open up. In my social media programmes – 'MenHurtToo' and another one, 'MAD-V' (movement Against Domestic Violence), we have a lot of things in there where men are asked to speak out what they are going through in their relationships. In a nutshell, we have to be our brother's keeper. We don't have to turn a blind eye to what is happening.  We should learn to be less judgmental is such situations. There's no perfect person or marriage anywhere. We only strive to live right. There will be challenges. Marriage is not bed of roses.
 Marriage and counselling roles
I think a lot of people bury their head in the sand and bring some sort value into marriage, while some people have wrong notions about marriage.  This may be due to their background, but sometimes it does work. When we read some of the books that speak about marriage and problems, a lot of girls tend to expect that to happen in their lives. But the reality on ground is not so. When you look at what is happening around us now, you would agree it is not working out anymore.
I usually advise couples to marry as friends before they become lovers. Friends can help each other no matter what the challenges are, as long as they are friends. But lovers or love at first sight will be too emotional to admit mistakes and carry on. Everybody tries to portray an image of a saint when they are dating.  It is always good to marry someone you know and not a stranger.  A lot of people prepare for wedding and do not prepare for marriage. There's a big different between being prepared for marriage and wedding. When a woman is being carried away with material things and does not consider the sustainability of marriage, she can give in anything. That's why many marriages collapse shortly after big society weddings, especially when they notice the incompatibility of the union regardless of the financing capacity.