In its bid to reduce the widening housing deficit in the country, Sterling Court Development, a Pubic Private Partnership Development initiative in collaboration with Lagos State Government through Agboyi-Ketu Local Council Development Area, in financial partnership with Sterling Bank Plc, is set to offer a solution to the acute housing shortage being experienced in the nation particularly in Lagos State due to its population which grows geometrically.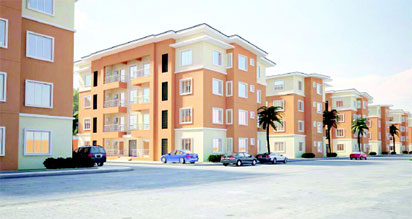 Sterling Court, conceptualised by the concessionaires in 2009, is a residential development with site location at Ajelogo Housing Scheme, Alapere, Lagos. It consists of contemporary designed apartment buildings, modern terraces and duplexes aimed at meeting accommodation needs of the medium earning families.
The scope includes construction of 40 blocks of 320 units starting with 26 blocks of 116 units as first phase in the year 2017. The construction methodology involves both mechanical and traditional approaches where different foundation types would be employed to ensure structural stability of the superstructure. These are cellular raft foundation, conventional raft and pad foundation.
According to a statement by the promoters of project, the initiative, as mentioned, has Sterling Bank Plc as its financial partner and also as its first client. In the words of the group head, non-interest banking, Sterling Bank Plc, Dr. Bashir Oshodi, "Sterling Bank is a full service national commercial bank and high quality financial service provider committed to enhancing stakeholders' value.
"The bank's involvement as the first client and financiers of the development is therefore borne out of Sterling Bank's culture of community engagement and promotion of a sustainable society by enriching lives", Oshodi said.
Dr. Oshodi, a specialist in development economics, banking & finance and integral research methodologies, added that "Apart from my personal goal which is to use integral development approach to drive poverty reduction strategies especially in developing countries, Sterling Bank has a strong passion for excellence and no doubt, the project will be of immense benefit to medium income families with satisfactory facilities provided at very moderate cost".
The statement also noted that the developers, OKB & Associates Limited, is a progressive real estate development company driven by an energetic team with sole aim of providing one-stop construction solution to its clientele across the world with Nigeria as the foundation.
Commenting on the project, Mr. Owolabi Kola-Balogun, CEO, OKB & Associates, said Sterling Court intends to create a world adaptable to urban commercialization where clients live life in style and learn to embrace life's true pleasures within their budget range. Population growth in metropolitan Lagos according to Balogun, has assumed a geometric proportions while the provision of urban infrastructure and housing to meet this demand is not at commensurate level.
This, he noted, has resulted in acute shortage of housing to the teeming population with Lagos alone, according to statistics available, accounting for about five million deficit which represents 31 per cent of the estimated national housing deficit of 18 million.
"This figure is growing at an exponential rate and therefore, the urgent need to provide affordable mass housing to help cushion the effect on the demand for housing," he stressed.
Corroborating this, the Project Manager, Taiwo Adeleke, an architect and staff of Triarch Projects and Services Limited, stated that his team and financiers of the development, Sterling Bank Plc, share a strong desire which is to transform the landscape with effective presence in Nigeria, Africa and internationally by transmuting concepts and ideas into substantial realities.
The design of the first phase consists of three prototype buildings to enrich proposed home-owners with a variety of options.
These prototypes are eight blocks of apartment buildings with a total of 64 flats. Each apartment provides accommodation of three bedrooms en-suite with spacious living room, fitted kitchen and maids room to service every flat, eight blocks of terrace buildings with a total of 32 apartments, each apartment provides accommodation of three bedrooms en-suite with spacious living room , fitted kitchen, family lounge and maids room and 10 blocks of duplexes with a total of 20 apartments; each apartment provides accommodation of three bedrooms en-suite with spacious living room, fitted kitchen, family lounge maids room and a dedicated compound.
The Estate has been designed to provide energy for self-sustainability, adequate parking spaces, 24 hours security, excellent road network, ample parking and good central sewage disposal system.