By Daud Olatunji
ABEOKUTA—The Brigade Commander of 35 Artillery Brigade, Alamala, Abeokuta, Basil Adoke, has disclosed that the Nigerian Army will soon launch a new security strategy in Ogun State, code named Crocodile smile, aimed at addressing security challenges in the state and its environs.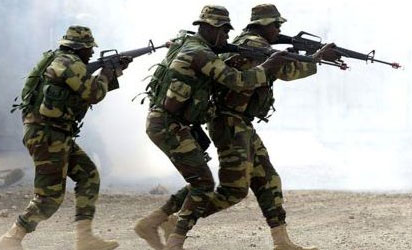 Adoke stated this yesterday, in Abeokuta at a reception organised by Ogun State Government in the government House,Isale-Igbein as part of activities marking 57th  anniversary of the nation's independence.
He explained that the   operation will target miscreants.
"We are going to start crocodile smile in Ogun State, targeted at miscreants', Adoke emphasised.
He however urged residents not to panic when the operation starts, stressing that some miscreants have been identified and there is a need to flushed them out.
"Though, the state is said to be peaceful,but we still have some miscreants to  deal with,so when you see crocodile smile, don't be scared'', the army boss assured.
He explained further that crocodile smile is a replica of python dance introduced in Abia State to silence criminals in the state and environs.
Meantime, Ogun State Governor, Senator Ibikunle Amosun has appreciated the role of security operatives in the state since he assumed office over six years ago.
His words: "I want to appreciate our security agencies that we will continue to support security measures. It is a known fact that, investment cannot grow where there is no peace, and without enabling environment.
The governor while speaking on the nation 57th independence celebration said he was optimistic that the country would overcome all problems facing it, stressing that problem is a phase in life.
He said,anybody or group that will divide the country should not be allowed,with a further call that,Nigerians should use her population for unity.
Amosun noted that,governance remained a serious business that should not be toyed with, stating that, those at helm of affairs should be seen to be serving.
On politics, the governor boasted that,his successor would follow his path of achievements,declaring that,he has already built a platform for that.
''When we got to office, we  raised the bar. Who is coming after me will follow my path of achievements. I have set the pace,'' he said.
Notable guests at the reception include first military governor of Ogun State,Seidu Balogun, former military administrator of the state, Raji Rasaki, former military administrator of Sokoto State, Raji Rasheed and service chiefs in the state.
Others are; Chairman, Ogun State Traditional Council and the Olu and paramount ruler of Yewa land, Oba Kehinde Olugbenle, Alake of Egbaland, Oba Adedotun Gbadebo, Olu of Owode, Oba Kolawole Sowemimo among others.