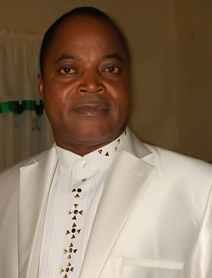 •Pastor Daramola
By Pastor Oloruntimilehin Joshua Daramola
Jesus Christ our Lord came into this world for two purposes which include the foundation and the structure on the foundation. If the foundation is not good, the building can collapse. If the foundation is good and strong and the builders do not build the structure well, the building can also collapse.
These two things—foundation and structure (building) are what Jesus came to do and they are linked to service (worship) and law. In Jesus' lifetime, he never left God for a moment. He was always inspecting the work of God and working from one place to the other.
The Bible says while he was praying, the sweat coming out of his body was like a pool of blood. So he never rested in serving God. Brethren, if your service is diligent but your obedience of the laws is not good then the service of God is to no avail. It has been noticed and observed that people do not want to be law abiding, they hate laws.
They always break the laws. Jesus Christ was moving from one place to the other preaching the word of God, multitude was following him listening to his preaching. He was taking care of them and they were serving God well. But when Jesus started giving them the law many of them felt disappointed and dejected. People do not want stringent laws.
Imagine the story of the rich young ruler Jesus told to sell all his possession and give to the poor. The man was disappointed Mathew 19:16-22 "…Jesus said to him if you want to be perfect go, sell what you have and give to the poor and you will have treasure in heaven and come follow me. But when the young man heard that saying, he went away sorrowful, for he had great possession".
People want to run away from stringent laws and prefer laws that guarantee their comfort and well-being. All what people want to hear is about prosperity, how they will prosper in life. So any ministry that always preaches about prosperity will have multitude of people attending church service.
But where prosperity is not preached the worshippers are scanty. Jesus gave some conditions in the course of his preaching in Mathew 10:34-39 "..He who loves father or mother than me is not worthy of me, And he who loves son or daughter more than me is not worthy of me. And he who does not take his cross and follow after me is not worthy of me. He who finds his life will lose it and he who loses his life for my sake will find it".
Jesus Christ was more concerned with people worshipping and praising God than prosperity. Whenever he wanted to work or do something, he would firstly thank God and praise HIM (John 11:41).
Prosperity was mentioned and talked about in the Old Testament concerning Abraham, Isaac, Jacob and others but Jesus was not concerned with prosperity when he said in the scriptures that it would be difficult for a rich person to inherit the kingdom of Heaven. Jesus emphasis was for people to seek the kingdom of God first and every other things shall be added (Mathew 6:25-34). What Jesus wanted people to do is to follow him, keep and abide by the laws, his honours and keep his ways.
There is nothing you will not have. Many people are not seeking the heavenly kingdom, instead they prefer the worldly things which are sinful to God and could lead to their destruction. Imagine a man was donating out money to a Minister of God and the ministry. He was doing it generously and severally. Then I decided to investigate the source of the riches spiritually. It was revealed to me that he was into piracy of musical video CDs of Nigeria Artistes and export them to Ghana for sales and involved in other illegitimate business that are offensive to God.
Such a person would not tow the path of Jesus Christ who wanted people to seek for the kingdom of God first. Now there are two types of church that exist: that of God and Satan.
Similarly there are two kinds of money that of God and Satan. Any person that has God's money would be living pleasantly, he or she would not lack the money, it may not be much but his or her life would be in peace, no sickness, the children would be okay every-thing would be okay and the work of God would be progressing. But person with Satanic money might run mad and encounter serious problems. It is therefore, pertinent to know that there are two things that people need to adhere to and strictly abide by them so that their lives could be meaningful both on earth and heaven.
*For further inquiries call 08023020108; 08058110288
facebook.com/pastoroloruntimilehin.