…Saudi govt apologises, vows to punish offenders
By Ishola Balogun & Kazeem Ategbeshe, Saudi Arabia
Two pilgrims from Nasarawa State, Alhaji Audu Damina Muhammad and Alhaji Ibrahim Nani Godi on arrival were roughly handled by security men at the Madinah airport, Saudi Arabia, Monday.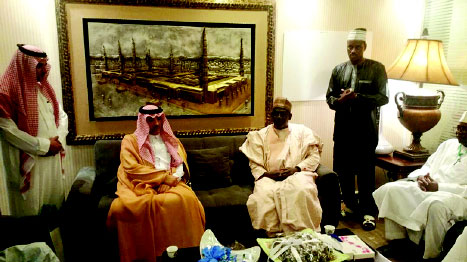 Angered by the ugly incident,  the Secretary, National Hajj Commission of Nigeria, NAHCON, Dr. Bello Tambuwal immediately petitioned the Saudi authorities and drew the attention of the Nigerian Embassy in Riyadh to the unfortunate incident.   As a result the Nigeria's Charge de Affairs in Riyadh Ambassador Umar Z. Salisu rushed to Madina to sympathise with the victims and to get explanation from the SaudiAmbassador on the issue.
Saudi govt apologises
The Saudi Arabian government however expressed its displeasure over the incident   and vowed to punish the overzealous security men.
The apology came after NAHCON's petition and the Charge de Affairs prompt arrival at Madina.
The Saudi government, through the governor of Madina expressed shock over the incident and promised to decisively deal with the security personnels involved.
To show remorse over the incident, the Madina governor, represented by his deputy Ambassador, Dr. Wahid Alsihli, along with the Deputy Minister in charge of Hajj and Umrah Affairs in the Kingdom, Muhammad Abdurrahman Bijawy, were at the Nigerian pilgrims hotel at Markaziyyah area, Monday evening to personally apologise to the victims, NAHCON, Nigerian government and pilgrims over the incident.
The deputy governor said that it was unfortunate that the guests of Allah could be badly treated by those who are supposed to show kindness to them and this he vowed will not be tolerated, hence the decision to punished the overzealous agents to serve as deterrent to others.
Responding, the Nigerian Charge de Affairs, Ambassador Umar Z. Salisu expressed delight over the Saudi Arabian government's show of humility, by accepting the mistakes of its overzealous agents, tendering apology and above all sending high ranking government officials to apologise to the two victims from Nasarawa State, Alhaji Audu Damina Muhammad and Alhaji Ibrahim Nani Godi.
Ambassador Salisu also commended NAHCON management in Madina for their prompt and proactive measures in handling the issue.