By Emma Amaize & Perez Brisibe
ABUJA— FORMER Minister of  Information and Convener of the Pan Niger Delta Forum, PANDEF, Senator (Chief) Edwin Kiagbodo Clark, has warned that the group may pull out of further activities with the Federal Government on the Niger- Delta peace process, if government's intention was really not to dialogue with the body.
Already, the umbrella body of traditional rulers, leaders and stakeholders of the Niger Delta region had withdrawn its representatives from an inter-ministerial committee on the region facilitated by the Ministry of Delta Affairs.
PANDEF, which met with President Muhammadu Buhari, November 1, 2016, and submitted a 16-point demand after receiving the mandate of militants and other stakeholders of the region, had been demanding dialogue with the federal government to discuss its mandate, but government seemed disinclined follow through with the arrangement.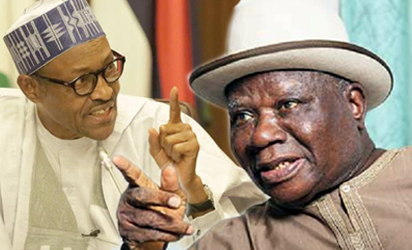 August 1 limit
Last week, the group gave government up till today, August 1, to name its Dialogue Team, but feelers from informed officials contacted by NDV showed that the federal government was not in the mood to name any team.
"The federal government is not interested in too many talks, we already know the problems, what is required is to tackle them. I can assure you that government is not ready for jamboree in the name of talks, which is what these leaders want.  They should give government the chance to work, not holding meetings every time," the source said.
He added: "It is known by every Nigerian that the Acting President, Prof Yemi Osinbajo, is the head of the federal government delegation to the Niger Delta, if they have any input, they should pass it to his office or meet him, not insisting on special dialogue on the 16-point demand, after all, Osinbajo had visited the region and collated needed information."
Clark had told Vanguard, last week:   "We are saying now that between now and August 1 (today, Mr. President should  name a team and we would name our team because the boys are impatient and they have been disturbing me with a  series of telephone messages and so on and some of them have even given notices to disown us.
"So we cannot be in a situation where the federal government is not listening to us, our boys would soon lose confidence in us and we cannot carry on with that situation, we are asking about the acting president opening discussions with us," he stated.
Why we insist on dialogue
But, in an exclusive interview, weekend, at his Abuja residence, Clark asserted: "We want to discuss our 16-point agenda, no discussion, no more activities on our part.  Our asking for dialogue over our 16-point agenda is to discuss, it is not a question of identifying projects to be done.
"We are part of this country, we are entitled to budgets in our areas, but we want to discuss the 16-point demand one- by- one. After discussing them, if the government feels they have done enough, we drop it.
"So, we need the dialogue, without the dialogue, we will pull out. When they said they were going to open the Nigerian Maritime University, NMU, Okerenkoko, we dropped it from the 16-point demand. Again, since they said they have directed oil companies to move their operational headquarters to their areas of operations, we are also going to delete it from our demand.
"We (PANDEF) are not out for trouble, but we are impatient now because the youths, they communicate with me every time. My telephones are filled up with text messages and threats, even in the last meeting we held in Yenagoa, they threatened me, they said you are holding meetings, we no longer have confidence in you, if it is the intention not to discuss with us, then we will withdraw," he maintained.
Issues for dialogue
"These points are not about issues of development or carrying out any project like the East-West Road, no. Even though the East-West road is one of the items mentioned there, we want to ask questions about that road.
"Why it has taken over a decade to construct one road and if it is true that N700billion as claimed by the Minister of Information, Lai Mohammed has been spent on that road, and yet that road is as bad as anything and has not been completed.
"I went through that road last week, from Port Harcourt to Yenagoa and from Yenagoa to Kaiama and it is as if nothing has been done on that road, so where did the N700 billion go to? These are issues that would be discussed," he said.
Chief Clark further asserted: "Secondly, we asked for the relocation of IOCs to move to their operational base. The acting president gave a directive on this when he visited Uyo and no action has been taken since then.
"Even the National Assembly just waded into this matter of relocation, asking why they (IOCs) should move, failing to realize that if these IOCs move to the region, it would enhance the economy of the country or rather, let me say the expenditure on movement of human beings from the operational base and Lagos would be reduced as regards hiring of planes, helicopters, house boats and payment of tax to Lagos state. This relocation would improve the economic life of our people.
"The ordinary woman, who sells groundnuts, water and the youths, would have more jobs. If the place is not safe, why would it be safe for them to explore oil and gas? So these are the things that we want to discuss with the government," he said.
According to him, "The modular refinery which was mentioned also, we would like to know too. Recently, contracts were awarded, and there was nobody from the Niger Delta to be considered. We asked Mr. President to review the appointment of the directorship into the NNPC board, why would you have nine members; six of them are from the North, including the service chiefs with only one from the Niger Delta is that fair?
"These are some issues we want to discuss, not issues of going to inspect projects saying this and that would be done, nothing has been done in the area.  So we want to discuss our future, our destiny. A situation where we are begging for what belongs to us, we want to settle it. It is very annoying that of all the positions in the NNPC, no Niger Delta man is occupying a good position; all the positions are headed by people from the North," he declared.
We dialogued with OBJ, Abubakar
The elder statesman hollered: "What do we do with an organization when we cannot talk with the government. We talked with former President Olusegun Obasanjo when he was president; we talked with General Abdusalami Abubakar when he was in government. In 1998 when Kaiama Declaration took place, we, the elders, took up the discussion with Abubakar.
"He set up General  Oladayo Popoola Presidential Com-mittee on Development Options for the Niger Delta and it came up with a report where they talked about stepping down the national grid at Yenagoa, creating a special fund, I think N15 billion at that time to develop the Niger Delta  we discussed them, they may not all happen.
"During Obasanjo's term, he set up  the  General Alexander Ogomudia Committee, he did, he went round and he reported on the neglect of the area. So we need the dialogue, without the dialogue, we will pull out" he stated.
N'Delta minister don't even know PANDEF  
Clark thundered: "Can you imagine a Minister of Niger Delta does not know where PANDEF is, I have been a Minister, I have been a Senator, he sent me a text message last week (more than a week now) that it is true that I have not been able to see you, I was very busy and  did not answer him.".
Kachikwu has tried, but …
He stated: "We appreciate the role played by the Minister of Petroleum (State) Dr. Ibe Kachikwu, but there is a limit to what he can do. Perhaps, he has been dancing back, making statements about the modular refinery, this and that, that they have a 20-point agenda and I asked him,  I hope your 20-point agenda has not been overtaken by our 16-point agenda.
"He said no, so, we want to discuss our 16-point agenda, no discussion, no more activities on our part."
Inter-ministerial committee meetings not dialogue
Chief Clark deflated the suggestion that government was already dialoguing with PANDEF with the forum's incorporation in an inter-ministerial committee on Niger Delta, proclaiming: "To say that some of our people are participating in some inter-ministerial committee and that should be taken as the dialogue is unacceptable."
He explained: "I was in this house when the Minister of Niger Delta wrote me a letter that they formed one inter-ministerial committee, made up of Ministry of Niger Delta, Ministry of Petroleum, Ministry of Environment, NDDC, Presidential Amnesty Programme, PAP, etc. and he wanted me to send three representatives to discuss within a period of one month.
"I thought that we have six states and we have youths, women, so,  I included a woman member and two youth representatives, they came to discuss with them, six of them, I do  not  think they lasted one week to two weeks, and the next week they said they were going to visit projects".
Why we withdrew our members
On why PANDEF asked its members to quit the committee, he asserted: "What projects, when did we discuss about projects, project is not our problem, we want to have a master plan, how is government going to approach our 16-point programme one by one, so we decided to withdraw, and ask our people not to bother themselves again.
"And nobody has called them again for a meeting, all we learned  on Tuesday, July 25,  was that the Minister was given a press conference talking about  a plan for the next two years, nobody consulted us, so we are not there, there is no substitute for dialogue."
Osinbajo didn't bring peace to N'Delta
On the visit of the Acting President, Prof Osinbajo to the region, he asserted: "And let me make it very clear that the visit of the acting President, Prof Yemi Osinbajo, is not responsible for the peace in the area, we only appreciated his visit, he is a nice man who appreciated what we are doing and what is wrong in the area. His speeches in Oporoza and other areas he visited, we were very happy with those speeches where he identified himself with us but that is not enough. What we want is discussion."
Relative peace
He warned that the relative peace in the region was as a result of the undertaking given to the leaders, clarifying thus:  "For some time now, we have been having relative peace in the Niger Delta, as a result of the undertaking given to us by the youths, and they delegated us to speak on behalf of our people and that is what we have been doing.
"That mandate is what led to the November 1, 2016 meeting of a 100- man delegation made up of traditional rulers, politicians, ministers, former ministers, former senators, governors and so on with President Muhammadu Buhari.
"There was no question of political party as all political parties were represented, based on that, we asked Mr. President to set up a dialogue team so that we can together, examine the 16-points we presented."