By Lawani Mikairu
Lagos—MEMBERS of National Union of Air Transport Association Employees, NUATE, and Air Transport Services Senior Staff Association of Nigeria, ATSSSAN, yesterday, staged a protest at the Murtala Muhammed Airport, Lagos, to register their disapproval to the planned concession of four of the major airports across the country.
The four airports to be concessioned are the Murtala Muhammed Airport, Lagos, the Mallam Aminu Kano International Airport (MAKIA), Kano, the Port-Harcourt International Airport and the Nnamdi Azikiwe Airport, Abuja.
The workers, who had thronged the road leading to the Federal Airports Authority of Nigeria, FAAN, and the Nigerian Airspace Management Agency, NAMA, headquarters explained why the airports should not be concessioned.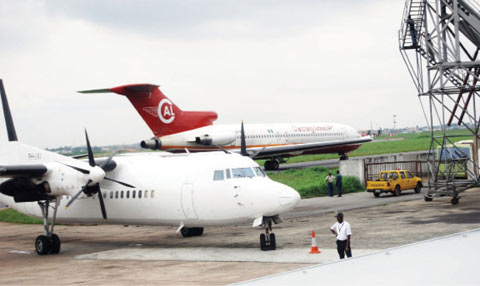 They argued that the Federal Government was yet to convince stakeholders on the need for concession.
Minister of State for Aviation, Hadi Sirika had taken the concession of the airports as a priority, citing the need to improve decaying facilities at virtually all the airport and the quest to boost air traffic and efficiencies that are lacking at Nigerian airports.
The workers moved round the airport with placards with inscriptions like: "Airport concession is a threat to national security", FAAN workers say no to concession of airports", "Concession is a fraud in disguise Nigerians will never benefit from", "Airport concession is economic terrorism", "Concession is aimed at killing the 17 local airport", "FAAN management has failed FAAN workers".
Armed security operatives from the Nigeria Police Airport Command were strategically stationed to prevent break-down of law and order and as they proceeded to the General Aviation Terminal (GAT), they followed them closely.
A union member from ATSSSAN, Sarah Rindas said they are opposed to concession because government was yet to explain the modalities for the exercise, adding that workers' collective resources and life are tied to the airports, especially the four viable ones slated for concession.
She said: "What happened to our salaries and pension when they are sold"? Enough is enough. We say no to concession. Our collective resources and life are tied to the airports. What happens to our future?.
"Despite all the interference, we are still breaking even. Over the years, we have had eight Ministers without consistency. It is not FAAN workers that are responsible for the rot in aviation. Our own model of managing airports is different from what is obtained in other countries. These four are the major cash-cow for the 21 airports", she said.