Nigeria forward Oghenekaro Etebo has said he was lucky to score four goals and equal a record first set by West Germany's Bernd Nickel 44 years ago.
Nickel scored his double brace in a 7-0 spanking of USA in front of 65,000 fans in Munich.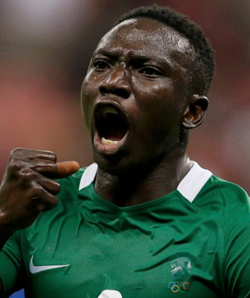 Portugal-based Etebo, who said he is inspired by Manchester United star Wayne Rooney, scored his four goals against Japan on Friday.
"When I scored those goals, I didn't think about anything. It's a game of football! Luck was on my side," he said.
"I'm not that perfect but I believe, like my coach says, once you get a chance, it's better you convert it because you don't know when you're going to get another one.
"I'm not a kind of special striker or fantastic goalscorer, but it's better to be at the right place at the right time to score good goals."
Etebo was Goal King when Nigeria won the U-23 AFCON in Senegal in December.
He subsequently scooped the CAF Most Promising Talent for 2015.