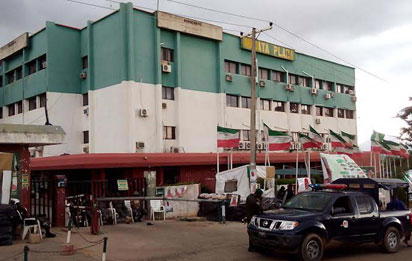 PDP Wadata Plaza
Lafia (Nasarawa State) – The Chairman, Peoples Democratic Party (PDP) Board of Trustee (BoT), Sen. Walid Jibrin, has said that the board members will visit some of the founding fathers of the party.
Jibrin made this known in an interview with News Agency of Nigeria (NAN) in Nasarawa State on Sunday.
He said the board and the founding fathers would discuss ways to address the challenges facing the party and how to move the party forward.
"The aim of the visit is to make wider consultation with the founding fathers of the party across the country in order to proffer lasting solution to the challenges facing the party.
"Despite some setback and the challenges facing our party, the party will never die because BoT and other stakeholders of the party are working tirelessly to unite it.
"The officials are working to bring the party back and unite the aggrieved members so as to make the party stronger.
"One of the founding father that we are planning to visit is Alhaji Adamu Ciroma,'' he said.
Jibrin said that the party would bounce back and would win Edo governorship seat and other positions at future elections in the country.
He, however, urged the party supporters not to be deterred by the challenges facing the party at the moment.
He also said that the party would provide a level playing ground to all candidates aspiring for positions in order to have a free and fair election during its forthcoming convention.
He said that the convention would be held in Port Harcourt on Aug. 17.
"The party has no anointed candidates for the convention because the period of impunity and god fatherism has gone in the party.''
The chairman, however, called on the party supporters and others Nigerians to be law abiding and not to allow themselves to be used by selfish individuals to foment troubles in the society.