By Johnson Omomadia
Too many people are today being deceived that their future is hopeless and that nothing good can come out of it. They have been lied to by satan that change is not possible. Some believe this lie or their present situation because probably they have tried certain things for years and yet no positive change has occurred. Thus, they have concluded that their lives can never be better. God has sent me to you today to let you know that His thoughts concerning you is of peace and not of evil and to give you an expected glorious end, a future and a hope (Jer. 29:11). God did not create you with a destiny that is useless. God is a glorious God. Everything He does is wonderful. This is why I know that your life is planned with great wonders waiting to happen. Don't believe the lie that your present status is your destiny. It is not true. It can be changed. You can change it.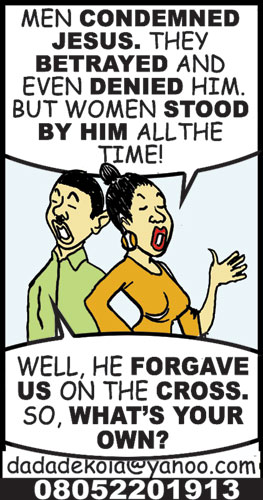 Jabez in the Bible, was given the name by his mother. Jabez means sorrow, pain, displeasure etc. jabez was not responsible for his mother's condition at birth yet the mother gave him a name that for a season was controlling his life. He saw himself as a hopeless person. Nothing seems to work for him. His brothers were celebrated everywhere they went while he was neglected. He was not recognized. He was despised by all. Everywhere he turned to, he could only see sorrow. His life was not only complicated but also messed up. To man there was no way out for him. He has no future and so he was not important.
One beautiful thing about this whole situation was that his case seems unbearable. One would be wondering where is God? After all Jabez did not conceive himself, why should he be made to suffer unjustly. The truth is that before any man is formed God already knows. Remember Jer. 1:5, "Before I formed thee in the belly I knew thee; and before thou camest forth out of the womb I sanctified thee, and I ordained thee a prophet unto the nations". So you see the destiny of a man is not in the hands of any man. It is in your hands.
God never creates anyone useless. There is no uselessness in God. He is an excellent God. Thus you are an excellent person. You may not look like it right now but that is the truth. Shortly, all those that look down on you will regret it because your destiny will soon change for good. The best of God in your life will start to show forth. I perceive a stirring up in your Spirit. It is time to rise up.
Jabez accepted his situation until a day and time like this when he said to himself God is a good God and so my destiny cannot be hopeless but colourful. He rose and saw himself beyond been sorrowful. He saw that there is a God who changed the life of Jacob and made up his mind to call upon that same God that is the same yesterday, today and forever.  The God who said call upon me and I will hear and answer you and show you great and mighty things which you do not presently know.
Thus, in 1 Chron. 4:9-10, the Bible states, "And Jabez was more honourable than his brethren: and his mother called his name Jabez, saying, because I bare him with sorrow. And Jabez called on the God of Isreal, saying, Oh that thou wouldest bless me indeed, and enlarge my coast, and that thine hand might be with me, and that thou wouldest keep me from evil, that it may not grieve me! And God granted him that which he requested".
From the text above, Jabez's destiny as orchestrated by the devil through the mother was changed by him. Jabez had to rise to the reality that he was not created for pain, shame and sorrow. This applies to you today. You can change your destiny now. The God who did it for Jabez will also do it for you. First, do you really desire a change? How desperate are you? When you are truly desperate for a change, change will become inevitable.
Call on God now from the depth of your heart. Cry out like the Isrealites did while in Egypt and God will hear you and change your destiny. Satan has denied you your glorious destiny for too long and it's time to put an end to it now. Pray fervently about the change you desire and your destiny will begin to shine.
Have you given your life to Jesus? If not, please pray this prayer. Father, I come to you as I am. I invite Jesus into my life to be my personal Lord and Saviour. Wash me cleanse with the blood of Jesus and empower me with the power of your Holy Spirit. Thank you Father for saving my soul and making me your child. Your prayer request and praise reports will be welcomed.