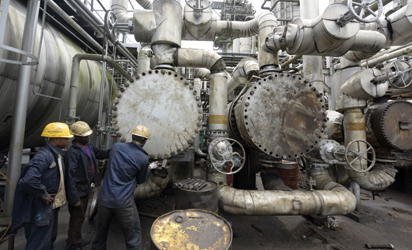 By Victor Ahiuma-Young
The Petroleum and Natural Gas Senior Staff Association of Nigeria, PENGASSAN, has kicked against the suggestion by the Independent Petroleum Marketers Association of Nigeria, IPMAN, that the nation's four refineries be sold as scrap, saying it is a fraudulent way of ripping the country off its national assets.
Speaking on the issue, PENGASSAN National Public Relations Officer, NPRO, Emmanuel Ojugbana, described the call by IPMAN as sabotage against national interest.
He lauded the efforts of the government in ensuring that the four state owned refineries were back on stream, especially with the recent report credited to the Minister of State for Petroleum Resources, Mr. Emmanuel Ibe Kachikwu, that the Kaduna and Port Harcourt Refineries would soon commence production after a long while.
Ojugbana said: "Nigerians need to ask the IPMAN leadership why they want the refineries which can be said to be in good form now to be sold as scrap. Even when the government has shown that the refineries can work and take care of 75 per cent of the nation's local demand of refined products. The proof that the refineries are still viable and profitable was exhibited by the Port Harcourt Refining Company, PHRC, which posted a net profit of N11.2 billion for December 2014, representing N8.2 billion or 250 per cent above the N3.2 billion posted by the company in preceding November 2014. This is attributed to the improved financial performance for the phased rehabilitation programme, which was done by the workers.
"The challenge confronting the functionality of the refineries is not the ownership. We have examples of countries even in West Africa such as Ghana and Chad Republic, just to mention a few where refineries are owned by the government. The refineries in those countries are not only functioning but Nigeria even imported from them in the past. IPMAN should know that aside from the challenge of Turn-Around Maintenance (TAM) of the refineries, adequate and regular supply of crude which is the main feedstock is another major impediment to the efficient and effective operation of the refineries."
The PENGASSAN NPRO insisted that workers in the refineries were poised not only to produce refined products but also to add the needed value to the crude oil, noting that the adverse effect of rationing or not feeding the plant with crude oil was that the plant remain idle for a long time.
"When the plant is idle for too long, this breeds residual faults and problems whenever there is an attempt to start up, since the design of a refinery is better when it is continuously operated. We are again demanding adequate and regular supply of crude oil to the four refineries to alleviate the suffering of Nigerians and reduced or eliminate subsidy payment, considering the plunge in global oil prices," he said.
He also challenged the government to grant the managements of the refineries autonomy for effective accountability while sustaining the rehabilitation process already initiated, stressing that "If any of the refineries fails to pay back the funding (if granted financial autonomy) and refuse to make commensurate returns to the NNPC within one year, the government is free to apply appropriate sanctions."